Fujitsu has come up with a tablet that promises to be resistant to water, dust and even alcohol, which makes it handy for use in clinics and hospitals.
The Stylistic Q704, unveiled in Singapore on Friday, comes with a 12.5-inch screen and runs Windows 8.1 or Windows 7, so it should handle existing Windows programs. It runs on an Intel fourth-gen Core i5 or i7 chip, and is part of the Japanese company's latest lineup of devices based on the new, battery-sipping processors.
Aimed at professional users, the Stylistic Q704 also comes with a stylus. Plus, it can be matched with accessories that will come in handy for office use, such as a smart card reader, a desktop cradle with expanded ports, a keyboard dock and a slice keyboard for typing.
The slate can also be used along with various Vesa mounts and be mounted on walls or hung by the side with a shoulder strap to free the hands when necessary. A smaller 10.1-inch Atom powered version of the slate, called the Q584, is also available.
Fujitsu also showed off a number of touch-friendly laptops in its Lifebook range for Singapore.  On offer are the Lifebook S904, T904 and T734 laptops.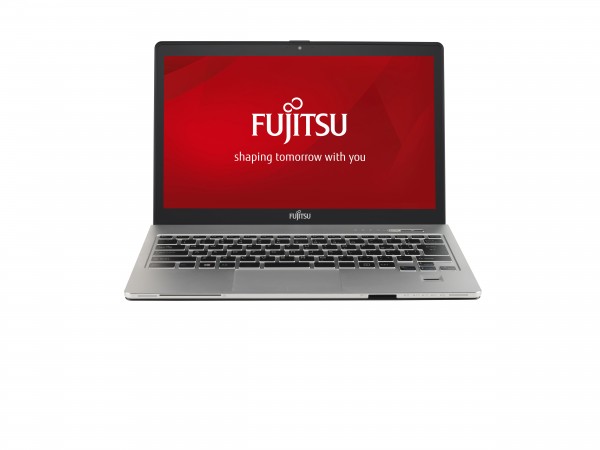 Of note is the Lifebook S904 ultrabook. Armed with a 13.3inch screen, the 16mm thick laptop weighs a mere 1.13kg if the modular bay DVD drive is taken out and replaced with a weight saver module.
If you are expecting a full-day outside the office, the Lifebook S904 provides additional battery power via its modular bay system, promising a total of 32 hours of  battery run time. Given that it is a business machine, it comes with a host of security features such as a smart card reader, encrypted hard disk and Computrace, which lets IT managers trace the laptop if it goes missing.
The Fujitisu S904, however, is not cheap, even when you factor in the enterprise features that Fujitsu is pitching. A version with the Core i7-4500U processor is out now in Singapore for a princely S$2,988, when many other ultrabooks can go for half that price.
The rest of the tablets and laptops will be out in the first quarter of 2014, with prices to be revealed later.