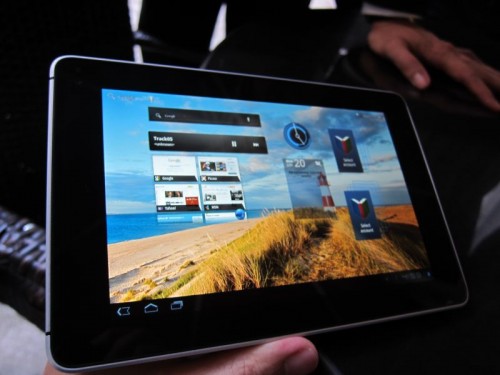 Chinese handset and network equipment vendor Huawei created quite a storm today by unveiling what it says is the first Android 3.2 Honeycomb tablet, a day before the CommunicAsia telecom show opens its doors here in Singapore.
The MediaPad sports a 7-inch screen and runs on a Qualcomm 1.2GHz dual-core processor. Weighing just 390g and measuring just 10.5mm thin, it supports 1080p FullHD video playback, along with a 5-meg camera for taking pictures on the go.
Huawei executives told reporters today that the new tablet will come with both Wi-Fi-only and 3G+Wi-Fi models, when it ships worldwide in Q3 2011, in the Americas, Asia-Pacific and selected European markets. The 3G version supports download speeds of up 14.4Mbps downloads (HSPA+).
The star feature, of course, is the newest version of the Android operating system for tablets. Unfortunately, all that Huawei executives would say about it is that it is optimised to run on a 7-inch tablet like the MediPad. They were tight-lipped on what the improvements were over existing Android 3.0 and 3.1 tablets.
Our quick hands-on with the device today told us nothing else about the operating system as well, because the prototypes we were handed were still running on existing Android versions, and were in fact, slightly sluggish when we tried swiping between screens. Of course, having only tried out the prototypes, we'd have to be fair and say the MediaPad might well improve when it finally ships in the next three months.
On the plus side, what we do know is that the 1080p playback is quite impressive. A Full HD video we played back today really showed off the sharpness and clarity of the IPS (in-plane switching) screen – it's one of the sharpest 7-inchers we've seen. We're still waiting to clarify the exact resolution of the screen, but we won't be surprised if this changed before shipping.
More certain though is the build quality. Huawei Device's chief marketing officer, Victor Xu, was at pains today to say that this wasn't another low-cost Ideos tablet, and he is right – the MediaPad is a pretty well-made premium device with an appealing aluminium finish.
I even heard a fellow reporter say it's a good iPad copycat, given how the finish is so similar to the iPad. I think that's not that bad a back-handed compliment, if Huawei ends up selling millions of the device, as they expect to (they were also coy on the exact number of tablets they think they'd sell).
What else do I like? Besides the fact that it's slim and light, the MediaPad also comes with an HDMI port for hooking up directly to the TV and an USB port to connect to a PC to transfer files. That's convenience that many slim and light tablets don't offer.
And finally, Huawei says it will work with telcos to develop an app store which it calls Hi-Space cloud solution. This, it says, will work alongside Google's Android Market, but is suited for countries where Google's app store is not available or where telcos prefer to have their own stores.
Unfortunately, that's all we know about this new Android 3.2 tablet for now. Huawei appears to want to show off its new capabilities, yet seem a little ahead of time when it comes to finalising the MediaPad's specs.
They were also quiet about how much the tablet would cost, only telling reporters afterwards at the launch event today that it would be "affordable to the masses", and that it would work with both retailers and telcos for final pricing.
Our quick recommendation? It's definitely something to have on your radar now if you are waiting for a 7-inch  Android tablet, but we'd have to see the final product and pricing to decide if it's worth your moolah. In any case, Samsung looks like it has some company in the 7-inch tablet space.