In its ads, Microsoft has been saying its new Surface Pro 3 tablet cum laptop can take the place of your current carry-around PC. After trying it out yesterday at a Singapore media event, I can say it lives up to its boast – mostly.
The first thing that caught my attention was just how compact it was. At 9.1mm in thickness and 800g in weight, it is significantly more portable than most laptops, including the Macbook Air that Microsoft pitches the Surface Pro 3 against.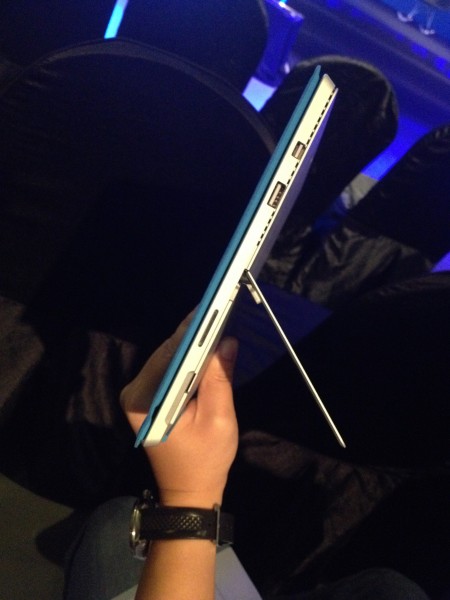 Moreover, with a battery-sipping four-gen Intel Core i3, i5 or i7 processor and Windows 8.1 Pro, the Surface Pro 3 functions as a full-fledged laptop that runs desktop-class applications like Adobe Photoshop and games sold on Valve's Steam service.
The tablet's display has significantly improved from the previous Surface Pro version as well. Its 2,160 x 1,440 "optically bonded" 12-inch screen showed vastly superior image clarity and contrast, rivaling that of Apple's Retina Display.
Microsoft has also gone for a 3:2 aspect ratio instead of sticking to its predecessor's 16:9, allowing for a more comfortable reading experience when using the tablet vertically.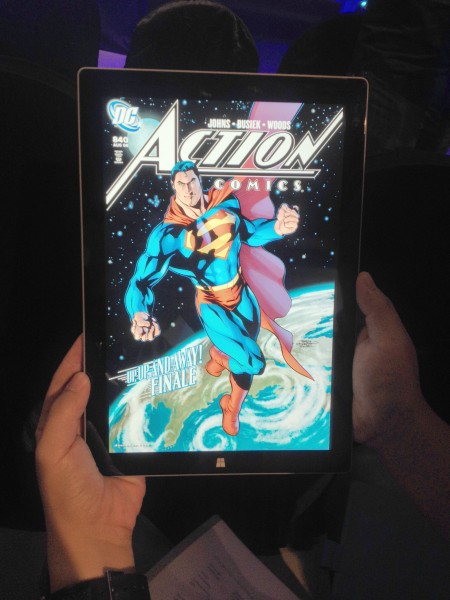 The Surface Pro 3 isn't complete without the Type Cover accessory, which is touted as the thinnest keyboard in the market featuring real keys and backlighting.
I found myself making almost no mistakes when using it, quite unlike the Surface Pro 2's Touch Cover, and it really felt like an actual laptop keyboard.
The Type Cover also features a double-fold hinge that makes the Surface Pro 3 rest more stably when you rest it on your lap, for example. This neat feature compliments the tablet's "infinite angle" continuous kickstand, which allows the Surface Pro 3 to be adjusted to several viewing angles.
Microsoft has also revamped the Surface Pen by integrating it with OneNote. A simple press of the pen's button opens OneNote almost instantly even when the tablet is asleep, making it easy for you to jot down random thoughts.
Pressing the same button again clears the screen for your next sketch, automatically saving the previous one into an online OneDrive folder. This will come in handy not only for business professionals, but artists like photographers or filmmakers who often make quick annotations.
The pen also touts 256 levels of pressure sensitivity and enhanced responsiveness. To me, it still did not feel as organic as writing on physical paper, but my scribbling came out pretty accurate. It was more than sufficient for note taking or sketching on-the-go.
My only complaint is that Microsoft has awkwardly positioned the erase button at the base of the pen, where our thumbs and index fingers are placed. Undoubtedly intended for quickly switching between pen and eraser, it had me accidentally erasing my sketches while drawing.
The Surface Pro 3 has clearly been tailored for professionals who require a full-fledged, yet highly mobile, computer at their fingertips. Its seamless integration with OneDrive is a nice touch, and its design allows it to be used both as a tablet or laptop with ease.
Microsoft's latest gadget won't come cheap though. When it's out in Singapore by end-August, the entry-level Core i3, 64GB version will cost S$1,108, while the top-end Core i7, 512GB version commands a hefty S$2,698.
Don't forget the additional S$183 for the keyboard – a must have – which can bump up the price quite a fair bit. It's still not unreasonable, of course, to those who want a powerful machine that is easy to carry around.