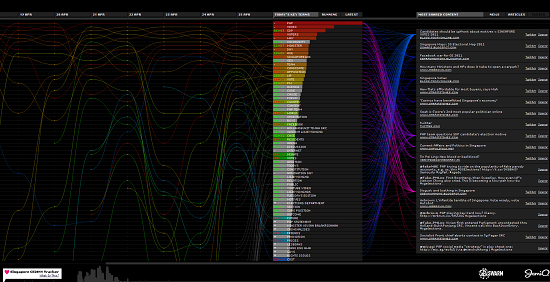 Swarm + JamiQ's visualization of Singapore general elections social media buzz
Here's an absolutely super cool visualization of the social media buzz around the upcoming Singapore 2011 general elections by the folks at Swarm and JamiQ. It's live, free for all to access, and will be up till election day.
Quick walkthrough on how to read the chart
You can see all the key terms that have been trending since the 15th of April, and the left hand side of the visualization gives you an idea of how those terms change in time during this period.
If the term has improved in position from the prior day it will have green numbers, and if it has dropped in ranking from the previous day it will be in red. New ranking terms are in grey.
For example, you can see that PAP is one of the most discussed terms in the Singaporean social media space since the project was started.
On the right side are the top ranked news, blogs or tweets that have the biggest amount of viral spread, i.e. in this case measured by the number of retweets on twitter. Click on the source link to see the actual news/blog post/tweet and twitter link to see who has spread that post.
For example, the top story being spread on twitter today is on PAP on the Vijeysinggha "gay" video and yesterday was on a police report made against Prime Minister Lee Hsien Loong for violating the parliamentary act.
The project is a collaboration between Swarm, which did the visualization and design, and JamiQ, who provided the data. The keywords listened for this project is "Singapore elections".
Riveting stuff.
Disclaimer: I work for JamiQ doing business development. I had a tiny part to play in giving my feedback on the visualization, but that was it — it was mostly coded by the designers and engineers at the two companies.