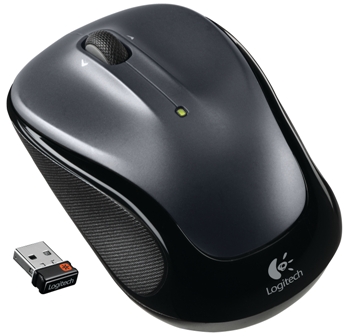 Logitech has recently introduced its M325 wireless mouse with 72 ratchets so you can scroll through more lines of content with a single flick on the scroll wheel.
Each ratchet corresponds to about one line of content, so fewer ratchets means more choppy onscreen motion when you scroll down a page.
The scroll wheel of most computer mice usually have 18 to 24 ratchets, giving you a scrolling experience that isn't as smooth when compared to that of a laptop's touch pad.
Aimed at laptop users, the M325 is small and portable enough to be carried around by telecommuters. The S$39 rodent also offers a firm grip on both sides and will fit snugly into the hands of both left and right handers.
Setting up the M325 is easy – simply plug the Unifying receiver into the computer's USB port, turn on the mouse and start browsing. The receiver, which can also be used to connect up to six compatible wireless keyboards and mice, can be stored in the battery compartment when not in use.
The M325 can be used with Mac OS X, Windows and Linux operating systems out of the box with no additional software or device drivers required. On Windows and Linux systems, you can tilt the scroll wheel to the left or right to move pages back and forth. On Mac OS X, tilt wheel actions can be assigned to Dashboard, Expose and Spaces functions in System Preferences.
The mouse worked like a charm in Windows 7 Ultimate, Mac OS X Snow Leopard and Ubuntu Linux 10.10. On all three OSes, the M325 was smooth while scrolling webpages and offered precise control over the mouse pointer. The only tweak I made was to reduce the pointer speed that was previously set for a three-year-old Apple Mighty Mouse.
Logitech claims the single AA-size battery required by the M325 will last for 18 months. I have no idea if that's really the case right now since I've only used it for a week. On the product packaging, however, Logitech says that "battery life may vary based on user and computing conditions". In any case, the mouse will enter sleep mode after a period of inactivity to conserve battery juice.