After seeing smaller rivals muscle into the fibre broadband scene with faster services aimed at gamers and other demanding users, StarHub has now thrown its hat in the ring as well with a couple of similar 100Mbps and 150Mbps plans.
Available from today, the two MaxInfinity LVL99 plans promise faster connections and lower latency for gamers, as well as free in-game items each month.
For these specialised services, StarHub says gaming traffic routed locally in Singapore will be given priority over regular Internet data. Specifically, it promises that the two services will have international connections at 15Mbps for 95 per cent of the time during peak hours, and "unlimited" bandwidth during off peak hours.
Gamers can also expect free in-game items with the plans starting at S$69.90 a month. StarHub is giving away items for games published by its partner Asiasoft, such as MapleSEA, and S$10 worth of items each month from Garena titles, which include the popular Blackshot first-person shooter.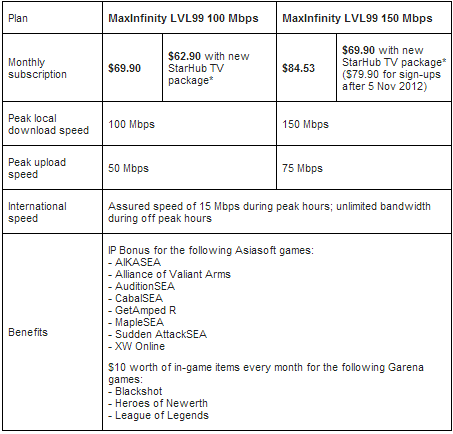 StarHub is following in the footsteps of smaller entrants to Singapore's increasingly competitive fibre broadband market.
In the past year, service providers have offered differentiated services that target various segments of users instead of simply dropping prices or promising a peak download speed that is seldom reached (read our commentary on the broadband experience).
MyRepublic, Viewqwest and M1, relatively new challengers in the consumer broadband scene, now promise lower latency and "priority lanes" for online games. Viewqwest has gone even further to provide a VPN (virtual private networking) service to enable users to view American TV programmes over the Net.
Even SingTel, which has not launched a similar specialised service, offers the same as StarHub on its fibre services – an "assured" 15Mbps for international traffic for 95 per cent of the time during peak hours.
While these additional promises of a better connection are new to Singapore users, they have been standard terms for consumers in Hong Kong, for example, where competition has driven prices down since the first fibre services came online a few years ago.
For Singapore users, the one question they have to ask before signing on the dotted line for a two-year contract is whether the speeds are as advertised. While it's hard for one user to test this extensively, they can check out the accumulated data from real users that the infocomm regulator publishes regularly online.