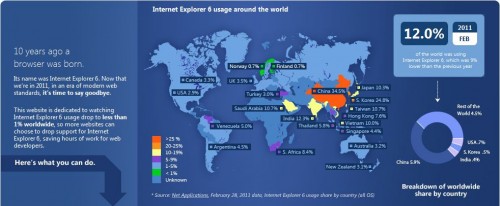 Microsoft is stepping up its efforts to wean the world off Internet Explorer 6 (IE6). A new website has been created by the Redmond company just to watch the aging browser die.
It sounds kind of morbid to put it that way, but for a slow and insecure web browser to stick around for 10 years causes a lot of trouble for web developers. They often have to take into account the different page rendering capacities of old browsers in creating web pages.
According to the website, 12% of the world is still using IE6, with China being the worst perpetrator — a whopping 34.5% of web surfers there are still on IE6. Singapore, being generally tech-savvy, still sees about 4.4% of usage. A very curious phenomenon indeed, since two new versions of Internet Explorer has been released since then, and a third newest one has hit Release Candidate status.
Recognising that a percentage of these people still using IE6 are doing so in corporate settings, Microsoft also put together some links to help convince IT departments to move to IE8. The list includes case studies and migration tips.
So how can you play a part in this race to kill IE6? Why, put a banner on your site informing your visitors, of course! Only IE6 users will be able to see this banner, and clicking on it will bring them to a site prompting them to upgrade.

If you're reading Techgoondu, chances are you're tech-savvy enough to be using a more modern browser. And if you're not, do upgrade now! IE6 is one of the least secure browsers out there (if not the least secure) and your browsing experience would be greatly enhanced by choosing any other browser.
Are you still forced to use IE6 at work? Let us know in the comments!