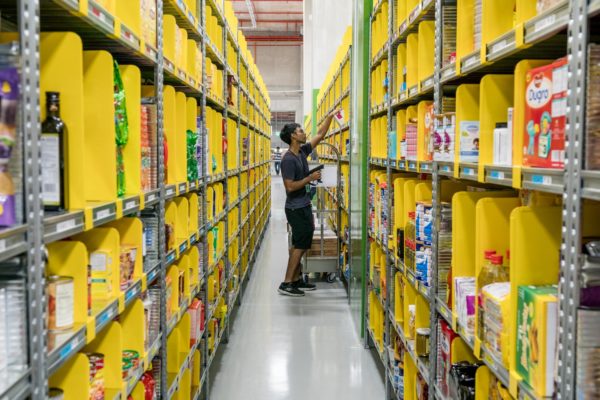 In a single day, Amazon has seemingly gone from the best thing to happen to Singapore, to a disappointing unfulfilled promise facing the country's famous shopaholics.
As the online store opened yesterday, the Internet was abuzz with folks sharing their purchases. Look, I got a new power bank!
Then the sudden surge of orders tested even the renowned scalability of the cloud computing giant, with deliveries dragging to 24 hours instead of two. Today, deliveries were still spotty, with some areas not served the last we checked.
In many ways, the hype around the launch is hard to live up to, but its lasting impact in the months and years ahead will show that this is a landmark when it comes to disruption.
Now that it is open after months of speculation, the first Amazon store here also serves as a base for the Southeast Asian region.
And this isn't like earlier online stores in Singapore such as the Alibaba-backed Lazada, Qoo10 or Honestbee. Being platforms for distributors and retailers to sell their items, these previous entrants do not have the same brick-and-mortar warehouse that Amazon has here to back their online sales.
Amazon has got its own brands in as well. If you're looking for HDMI cables for your TV, don't forget to check out the Amazon Basics version. A three-feet (91cm) version costs S$9, as good as more expensive but similar-performing versions costing a few times more.
No, the famous Amazon Echo smart assistant is not here yet. Nor is even the Kindle electronic tablet that many here already own. But they are surely on their way, if Amazon follows through from its early ambitious start.
Indeed, one thing that will determine its success here is the amount of stuff it will eventually sell. At start, there isn't the same number of items as other online stores here and it will have to catch up.
Yes, there are eggs and tofu, but this isn't Redmart, which is owned by Lazada, or Honestbee, two online grocers that offer a lot more in terms of groceries than Amazon.
Nor will electronics retailer Harvey Norman worry – at least for now – about losing sales to Amazon. Only two Samsung TV models were on sale on Amazon, the last we checked today.
Still, if you are looking for an example of a disruption, this is a big one for Singapore. Though it has been late to the game, Amazon has long been shipping DVDs and Blu-rays – yes, those discs from the 2000s – from its American store.
There isn't any marketing required to win over the scores of shoppers who have been buying anything from solid state drives (SSDs) to baby chairs from the United States.
And now, without worrying about customs charges and waiting more than a week for something to arrive at their doorstep, shoppers will find deals on the local store even more appealing.
And you can expect it to turn the corner with delivery issues, when the initial Singaporean rush to all things new slows. Witness how long the queues are to the latest ramen shops opening and it's clear the demand will stabilise over time.
For retailers, the entrance of Amazon must feel like the inevitable finally happening. Facing high rents driven up over the years by Reits (Real Estate Investment Trusts), they now have to worry about an online merchant that can buy in bulk and not worry about rent like they do.
Not everything will be fulfilled by Amazon, of course. Some retailers will be able to list on Amazon themselves and sell, say, niche items that their bigger rival doesn't have in its warehouse.
Others will bank on customer service, using that as an advantage for users who need shopping advice beyond what the Q&A segment of a website offers. You sometimes want the butcher's advice for a piece of meat, for example.
What will surely be impacted are retailers that charge a fat margin over what online retailers such as Amazon offer. They will go out of business if they keep selling the same stuff at a much higher price.
Actually, that has already happened. Years before Netflix was a thing here, scores of video stores were put out of business by Amazon, which sold cheaper DVDs and Blu-rays, even if you count the shipping from the US.
In recent years, we've seen some PC components such as SSDs fall in price in Singapore to better counter what is sold in the Amazon US store. Many other things will follow, from baby products to wine openers, and that's a good thing for consumers.
Two years ago, I bought a Casio G-Shock strap for US$24 (it's US$21 now). With the US$5 tool needed to replace the faulty strap on my old watch, my bill came up to US$29 (S$39). Even with the shipping, I paid substantially less than the S$80 that the local Casio dealer wanted for the five-minute job.
Yes, there are many challenges to the retail business, from having to keep inventory to staffing costs. But these retailers cannot expect consumers to go for a lousier deal when the comparison is so transparent. If you can't compete, you lose.