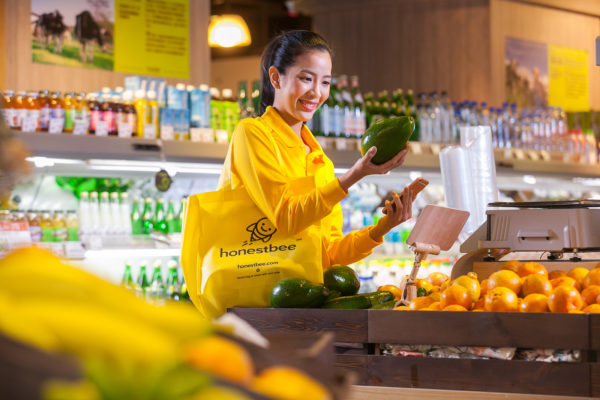 Each time a delivery man from Honestbee comes knocking on the door these days with bulky items like rice or tissue boxes, I wonder why I still head to the supermarket myself.
My wife has made a habit of ordering online, saving the hassle of carrying back all sorts of stuff ourselves. Yes, even whole chicken and fresh produce needed to brew tonic soup.
Yet, despite offering convenience, e-grocers are not a surefire way of always getting what you want – especially if you want something specific.
I learnt that yesterday, as I thought of cooking up some vongole pasta, a beef tagliata and pan-fried potatoes today on New Year's Eve.
I ended up spending a couple of hours on the tablet searching through the online stores. Eventually, I still visited a nearby NTUC Fairprice.
Despite huge catalogs now available to shoppers, not everything in-store is sold on third-party sites such as Honestbee. You often find something missing on your shopping list.
That's when the headache begins. You can order from another store if you can't find something in one store, but you'd need to look for it elsewhere. Plus, make sure the delivery timings all work.
Yesterday, the NTUC store on Honestbee didn't have stock for common items such as fresh rosemary or parsley – at least not for delivery to my place.
Then there's the issue of delivery times. I found jalapeno peppers on another fresh grocer on Honestbee, but the fastest delivery was three days later. The holiday season no doubt factored into that.
To be fair, e-grocers have come a long way from the early attempts at online retailing years ago. Today, the likes of Redmart and Honestbee have addressed common concerns that you'd have ordering the first time.
In terms of freshness, for example, I've never had issues with produce such as chicken, mushrooms or bananas. The buyers picking the stuff for you are experienced – it's their job, after all.
I'd be more careful if I'm feeling rich and buying an expensive piece of wagyu or live Alaskan crab, which are available on the Japanese supermarket Emporium Shokuhin. How often do you splurge on these items, though?
In the end, I ordered some little neck clams from the emporium through Honestbee, along with other things I didn't need urgently, like some Hokkaido milk. Unfortunately, it didn't sell any fresh herbs, even in-store.
So, having spent a couple of hours surfing through the site – some of it window shopping – and still missing a few items on the shopping list, I picked up the wallet and drove to an NTUC Fairprice.
There, I found everything I lacked, including the steak and herbs, plus the kitchen towels and tissue boxes my wife tasked me to bring back.
I probably would have spent as much time driving to both the NTUC Fairprice nearby and the Japanese emporium, because I had looked in vain online to save on travelling.
Next time, I'd need to be a smarter shopper on these e-grocers. Hopefully, by then, more shops will come online, with even more items ready to be delivered.
Even then, there's always the need to plan ahead. Yes, e-grocers can deliver in as short as an hour's time, but you'd need to find the item online first.
As I just learnt, sometimes you still have to get off your butt. Digital economy or no, that's the surest way of getting what you want sometimes.