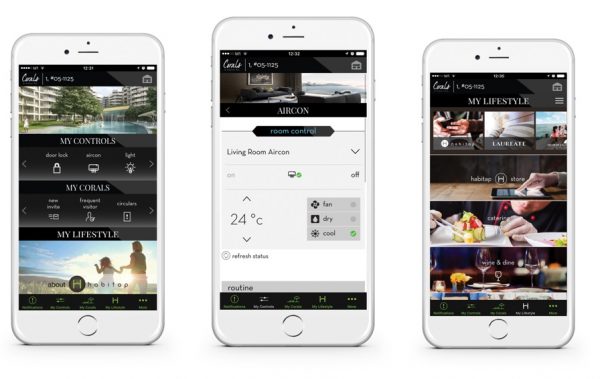 Residents of the Corals at Keppel Bay condominium in Singapore will be able to control their air conditioning, set the lighting according to their mood and even send details of visiting guests to the guard house with an integrated smart home app called Habitap.
Launched in Singapore yesterday, it is said to be the first here to manage different smart home sensors and controllers in a single screen, avoiding the headache of accessing several apps separately.
It is the brainchild of homegrown software developer Philip Tang & Sons, in collaboration with Keppel Land, the property firm behind a number of luxury condos in the country.
Though other developers have been touting smart home technologies as a new selling point to tech-savvy Singapore buyers in the past year, this is the first time an app is ambitious enough to bring so many different items and services together in one screen.
The 366 units at the upscale waterfront development all come with a smart hub, door lock and air conditioning that can be controlled through the Habitap app.
If the residents want to control other smart gadgets, such as Sonos music players or Philips' Hue lights, they can buy them through discounted packages sold exclusively to them.
All in, Habitap is said to work with 100 smart home products right now. Many use the popular Z-Wave or ZigWee wireless home control technology already common in current setups.
What's also interesting is that Habitap is able to get users in on other commonly used tasks, such as sending a guest list to the security office for a barbecue. Using the app, a resident can send invites over e-mail and the system will provide access codes to the guests to show at the entrance.
It's not difficult to see that Keppel Land wants the app to keep it connected to residents in the long term, even after they hand over the keys and pass on the running of the estate to a new management committee afterwards.
Besides controlling gadgets at home, the app also lets residents book taxis through Grab, buy gourmet food from various sellers and even book a Ferrari for a test drive (the salesman will drive up to the entrance).
As curators and gatekeepers of sorts to the well-heeled, Keppel Land and Philip Tang & Sons could potentially get a cut of these services provided by third parties. Smart home automation may just be the first step to get this rolling.
Philip Tang & Sons chief executive Franklin Tang said the rollout is kept small for now so it can get things right with engineers and technicians on hand at the estate to assist residents with setting up the various gadgets.
The Habitap app will be available to other users who wish to set up their own smart home systems, in the next six to 12 months, he added, while cautioning that the experience is paramount to smart home adoption. "If things don't work, people are fast to say 'forget it' and not want to do it again."