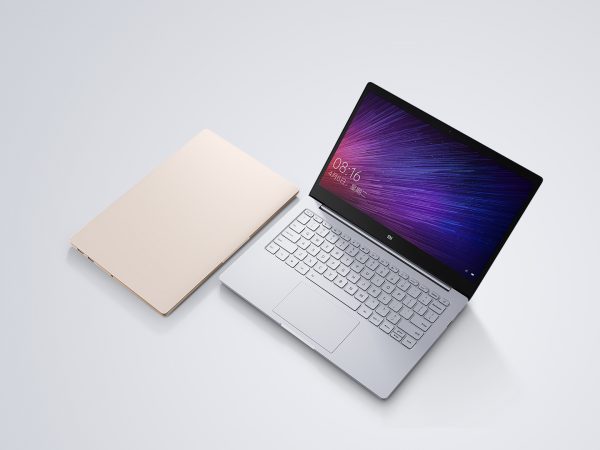 Xiaomi has often been accused of copying Apple's designs. It is hard to deny that some of their past products, especially smartphones, have had very Apple-esque designs. Even its first ever laptop, the Mi Notebook Air, sports a very similar name and design to Apple's Macbooks.
Unveiled two days ago, the Mi Notebook Air has a sleek minimalist all-aluminium body. While its name takes cues from Apple's Macbook Air, the shape and design of the Notebook Air looks more like that of the Macbook Pro, with rectangular edges rather than tapered ones.
There are two obvious distinctions from Apple's offerings. Firstly, the top of the Notebook Air is devoid of any branding or design. Secondly, the keyboard follows the hue of the main body (either silver or gold), whereas Apple's Macbooks have black keyboards regardless of the laptop's colour.
Aside from these distinctions, other differences, such as the number of ports, are so subtle that you can't help but see where the inspiration of the Notebook Air's design comes from.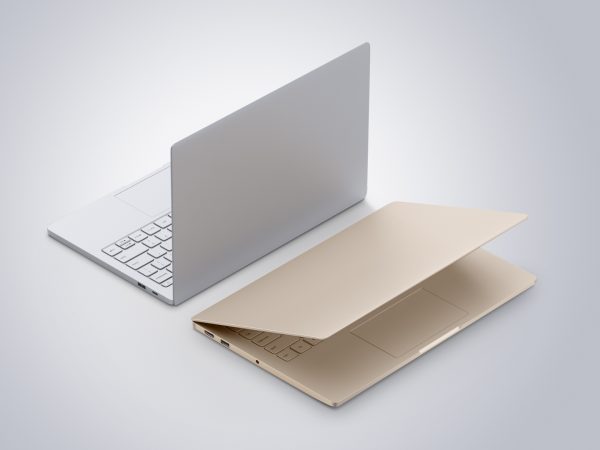 As consumers, does it really matter if Xiaomi clearly copied Apple's designs? Or does the value of the product trump its design?
One paper, the Mi Notebook Air gives you bang for your buck. The 12.5-inch version, which weighs 1.07kg and is only 12.9mm thick, comes with an Intel Core M3 processor, 4GB RAM and a 128GB expandable solid state drive (SSD) for only 3,999 yuan (S$812).
Xiaomi also touts a 11.5 hour battery life, comparable with the likes of the Macbook Air.
The 13.3-inch version packs more punch. It sports an Intel Core i5 processor, 8GB RAM and a 256GB expandable SSD. More interestingly, Xiaomi has somehow managed to cram a NVIDIA GeForce 940MX dedicated graphics card inside its 14.8mm frame.
At 1.28kg, the Notebook Air packs more graphic power than most laptops in its class, and it only costs 4,999 yuan (S$1,015). Most laptops with a similar form factor cost much more than that, and they usually do not have a dedicated graphics card.
This larger variant has a slightly shorter battery life, rated at 9.5 hours. However, Xiaomi says that you can charge it up to 50 per cent via the Type-C USB port within 30 minutes.
This is pretty remarkable, and makes the Notebook Air a compelling device for people constantly on the go.
Design aside, it is astonishing that Xiaomi is able to offer great specifications for such a low price. This echoes their mission to provide high-quality products at low prices.
We can always argue about the legal and moral issues behind copying the design of a competitor, but this strategy is clearly working out for Xiaomi. Founded in 2010, Xiaomi has already become the fifth biggest smartphone maker in the world, supplanting household names such as LG and HTC.
Who would say they support such copying, without also worrying about the loss of innovation in the long term? Yet, it is certainly hard to deny that everyone wants premium products at low prices.
You could argue that there isn't much to innovate in terms of a laptop design. The clamshell design has been used for so long, and there are only so many ways you can change its design.
Likewise, smartphones are generally rectangular slabs, and there seem to be limited ways you can vary that design.
This line of argument suggests that there is less value in spending resources on innovating designs, and it would be better to take inspiration from competitors. After all, one can argue that imitation is the highest form of flattery.
Let's be clear: Xiaomi isn't the only Chinese company accused of copying Apple's designs. The Huawei P9 and Oppo R9 also have some resemblance to Apple's iPhones. Interestingly enough, Huawei and Oppo are also among the top five smartphone vendors in the world.
And even Xiaomi itself has been ripped off. In Thailand, a smartphone brand called iMI Technology is said to have earned a good US$20 million last year, using a very similar logo to Xiaomi.
As a technology enthusiast, I often lament about the blatant design rip-offs that Chinese companies engage in. I applaud great innovation in design, such as Microsoft's Surface Book, which looks quite different from many other laptops.
At the same time, as a consumer, I'd love for much more affordable technology products. Affordable yet premium phones have been gaining in momentum, and big players are starting to feel the pressure from Chinese companies cannibalising their sales, and have to put in more effort into justifying their prices.
In fact, Apple's iPhone SE seems to be an attempt to claim back some market share from mid-range phones.
In an ideal world, no company would steal another company's design or technology to pass off as their own. But the reality is that consumers want the latest and greatest products without having to spend a bomb.
Not to mention, it costs a lot to innovate, and not every company has the same resources that Samsung, Apple and Microsoft have. That doesn't make it right, but it's reality.
So far, the Mi Notebook Air is only slated to be available in China starting August 2. Despite apparently copying the Macbook's premium design, the Notebook Air definitely offers great value for its price, especially for users who cannot or will not pay what Apple asks for.
When it does eventually make its way to countries with more lenient intellectual property laws, I have little doubt that it will disrupt the laptop industry. Like it or not, other PC vendors have to up their game.