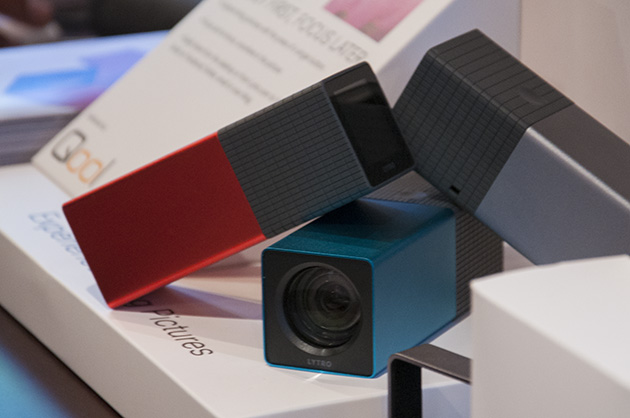 It's been almost exactly one year since Lytro launched its "light field camera", and the revolutionary gadget is now officially available in Singapore at a pricey S$648 for the 8GB version and S$778 for the 16GB version. We go hands-on to see what the fuss is all about.
Hardware & design
You can't pick up the Lytro without marvelling at its design and build quality. For one, it looks nothing like any other cameras on the market. The camera is made in the shape of a cuboid, with the lens on one end and an LCD screen on the other.
A textured rubber material wraps around the body and takes up about one-third of the space, giving it a nice grip. The rest of the body is smooth anodised aluminium in bright red for the 16GB version and graphite and blue for the 8GB version.
One may say there's even something Apple-esque about the Lytro's design. It turns heads, and invites you want to pick it up and play around with it.
Inside the metal tube lies an 8x zoom lens with an aperture of f/2.0, handy for low light shots.
All the controls are either on the touch screen or on the rubberised area, and not complicated to use at all. A power button sits next to a USB port on the bottom of the camera, and a squishy shutter button on top.
It takes a little bit of practice to shoot with the Lytro, but once you try it a few times the actions come smoothly enough. Raise the camera up like a telescope, and a light press of the shutter button completes the process.
"Living pictures"
The most revolutionary part of the Lytro camera is its light field sensor, so-called because it captures the entire light field – all the rays of light travelling in every direction through a scene – and outputs a file that can be re-focused even after you export it.
Ever had occasions when a photo looks fine on your camera's LCD screen, but turned out to be out-of-focus after you view it on your PC? Lytro puts an end to that. The proprietary LFP files can be focused and re-focused so that it shows a different picture each time. Click anywhere on the photo below to see how it works.
Browse through Lytro's gallery of user-uploaded photos and you can see how amazing the technology is. Each click of the photo opens up a new perspective, potentially telling a new story.
The quality of the photos seem to be a hit or miss. Some of them show really great detail, but there are others that look bland.
A recent firmware update added manual controls to the camera, such as the ability to adjust ISO (80 to 3200), shutter speed (1/250s to 8s), and Auto-exposure lock, which should be handy for enthusiasts who want to fine-tune how their photos look.
Buyers will be also assured of firmware updates. Now that manual controls have been pushed out, Lytro is preparing the ability to capture 3D photos in the next update. The 3D photos shown off at the local launch showed excellent depth and can even be jiggled around, somewhat like this GIF file:

Note: this is not an actual photo from Lytro. (Photo credit: Squidoo)
Sadly, we confirmed that you won't be able to export these photos into GIF formats for sharing.
The LFP format is also quite a hassle. You have to download a special application from Lytro's website to view your photos, and the editing options are quite sparse. Opening an LFP file in other image editors is impossible, but you can save the files as JPGs and then edit them. But Lytro executives promise that more features will come to its photo editor soon, so it's just question of time.
Wrap-up
The Lytro is no doubt a disruptive technology that's pushing the boundaries of digital photography, but truth be told it currently feels more like a promise of greater things to come. The camera is a first-generation product that falls firmly in the enthusiast category, especially considering how its local price can get you a high-end point-and-shoot camera.
Sharing is also rather troublesome with the images' proprietary format. All the photos you want to share have to be uploaded to Lytro's website first before they can be embedded or their URL emailed elsewhere.
The company has revealed that it has no plans to license the technology to other camera manufacturers, so we won't see light field sensors anywhere other than Lytro cameras. This means adoption will be slow, and interoperability with other image viewers and editors may never become a reality.
But if price is no matter, then the Lytro is definitely a nice gadget to have. The hardware is excellent, the photos it takes are unique, and you get to be an early adopter of an awesome new imaging tech!