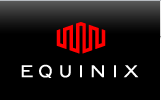 Equinix is expanding its Singapore data centre by injecting another US$28.5 million into it and increasing the number of cabinets to 3,256 to cater to growing demand for cloud-based services and financial services.
This is the company's fourth phase of its SG2 business exchange and is expected to boost the capacity for more online services, when the additions to the data centre go online by the end of 2012, Equinix said today.
Singapore is already home to about 50 per cent of the Southeast Asian region's data capacity, according to the company, and the expansion is aimed at taking advantage of the country's hub status.
Equinix itself is located near to Singapore's Mediapolis cluster of media-related companies, and it wants to serve some of these customers which are expected to transfer, store and crunch enormous amounts of data.
Among Equinix's list of customers so far are web hosting firm Go Daddy and cloud player Unitas Global. Equinix has also recently been expanding its data centres in Asia, Europe and the United States.