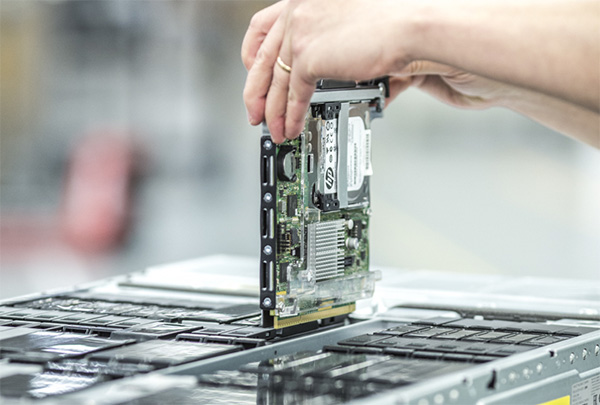 Warning of a "breaking point" in today's data centers, HP on Tuesday showed off in Singapore its new generation of Moonshot "microservers" that promise to address the data challenges created by social, cloud, mobile, and big data.
These Moonshot servers are built from chips more commonly found in smartphones and tablets – such as Intel's Atom processors – so that they generate less heat and consume less power.
As a result, each complete server can be packed onto one high-density cartridge, 45 of which can then be slotted into a chassis with integrated cooling, power supply, and management software.
Altogether, HP claims that one Moonshot unit takes up 80 per cent less space than traditional servers and consumes 89 per cent less energy, all at a low starting price of US$61,875.
HP also claims a big reduction in complexity in deploying and maintaining Moonshot servers of up to 97 per cent.
On a large scale, Moonshot is designed for speedy deployment for specific Web and cloud workloads, such as content delivery and static webpages. This is particularly important as existing data centers are struggling to keep up with the explosion in data. Think of Facebook, Twitter, and its lot, and the enormous number of requests they handle each second.
Together with Moonshot, HP also introduced the "Pathfinder Innovation Ecosystem", which brings together nearly 25 silicon vendors, operating system developers and independent software vendors to design and develop more cartridge configurations for a greater variation of workloads. These vendors include AMD and Texas Instruments.
Moonshot will be available in Singapore from May 2013.