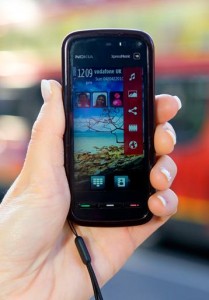 Nokia has taken the wraps off its new 5800 XpressMusic phone, the long-awaited touch-screen phone from the top phone maker.
Pictures of the device, Nokia' answer to the touch-screen craze sparked off by Apple's iPhone, had been out on the Web in the days prior to the launch.
So it was no surprise when the device was unveiled here today. If it looks a bit like the iPhone, or Samsung Omnia, you are absolutely right!
But it has all the right stuff packed in as well, like a 3.2-inch screen, 8GB mico-SD card (pity it wasn't 16GB built in though), a 3.2-meg Carl Zeiss lens, and most importantly, a 3.5mm audio jack, which means music fans can plug any earphone/headphone directly to it.
This is one phone aimed squarely at Apple, especially with Nokia's Comes with Music service bundled in next year. That gets you a free one-year access to Nokia's online music store. Yup, you download anything you like for free, for a year.
Unfortunately, the price for that bundle is not disclosed yet. The phone alone will go for 279 EUR, when it is out in the fourth quarter this year.
The Comes with Music programme will be out in Asia-Pacific by the first quarter of 2009, and will be available also with other music phones like the N95 8GB and 5310 XpressMusic.
Not a bad response from the top phone maker, afte seeing the likes of Apple, HTC and Samsung steal its thunder of late. Let the battles begin!