If you are signing up or renewing a broadband, mobile or pay-TV service these days, the questions you face can sometimes be rather daunting, given big changes – mostly positive – that have shaken up the telecom market in the past few years.
Who has the best broadband deals in Singapore? Who has the best bundled "triple play" deals with all three services packaged nicely and billed in a single envelop? And, of course, how do I switch all my plans over to one operator?
Answer these questions well and you could be on the way to substantial savings by buying wisely and also enjoy the convenience of having fewer bills from so many operators.
About four years ago, I'd have told you, if you watch live football, the choice was simple: go for StarHub, because it had the fastest (cable modem) broadband, per-second billing for its mobile services and of course, the crown jewel – English Premier League (EPL) on its cable TV channels.
But things have changed so much in the past few years that consumers are sometimes spoilt, perhaps even confused with choice.
Fibre broadband has truly given users better deals – S$39 a month for an unheard of 100Mbps, for starters. The upcoming three seasons of the EPL could well be shown on both SingTel and StarHub, and possibly even M1, thanks to Singapore's new pay-TV rules. And let's not forget number portability, which lets you keep your mobile number while switching telcos.
With so many changes in the past few years and more upcoming, what should you be aware of when you next sign up for those two-year contracts? Here's a little guide, gleaned from my own experience buying these services.
Fibre is coming and will be cheap
In the bigger scheme of things, it's clear in Singapore that everything – voice, pay-TV and broadband – will be piped through the new fibre broadband network that will connect almost all buildings here by this year.
Already, fixed line phone services are provided by SingTel, StarHub and M1 through fibre today. SingTel has also started delivering its mio TV over fibre, while StarHub is expected to do the same with its TV programmes in future as well (it's less eager because it has sunk cost in a pretty modern cable network that's just 20 years old).
Should you jump on fibre? If your area is already connected, it is worth a serious look because the new services are often the better deal, thanks to intense competition.
StarHub, for example, sells its 100Mbps cable modem service for S$80, but a similar fibre offering goes for just S$68. M1 goes further, often dropping prices to a stunning S$39 a month for 100Mbps at the quarterly tech bazaars.
I had gone for a 100Mbps service early last year for S$59 a month from M1 – a good deal in the day because I was then paying almost the same amount for a StarHub 16Mbps plan (which is now S$44 a month).
Bear in mind all these prices are before the whole of Singapore has been connected up by the fibre network. When everyone has access to it, you'll see a very fast takeup of the new services, no matter if people really "need" or use the speed. That means even fiercer competition.
In 2012, you'll see M1, so eager to gain new customers, continue to be the bargain price leader, while new entrants like MyRepublic could test the water here by offering niche plans with packaged content.
If you are signing up for a two-year ADSL or cable modem plan now, you should know that chances are, there are going to be much better deals during the next two years that you are tied to the plan you're signing up for. Fibre is the way forward.
Pay-TV will not be the same
Those ruinous pay-TV deals that forced SingTel and StarHub to outbid each other in the past for exclusive content meant that they pushed up their own costs and also forced subscribers to own two set-top boxes if they wanted the football on SingTel but, say, National Geographic on the more established StarHub pay-TV service.
The current EPL contract for SingTel expires after this season. Hopefully, as the bidding gets underway again later this year, the new rules pushed through by the Singapore regulators would mean less costly deals for the telcos and better options for users.
Under the new regulations, if SingTel wins the rights, for example, StarHub customers can still request to have the EPL matches shown on their pay-TV set-top boxes (and pay SingTel directly for the content). This means just one set-top box for StarHub users, and hopefully also puts an end to the crazy bidding that benefits nobody except the greedy rights owners.
How does this affect how you buy your "triple play" services? If things go as they are meant to, it means you should no longer be stuck with the operator which has exclusive rights to show the EPL matches. If all three operators manage to get EPL on their pay-TV channels, then you, the consumer, will really be spoilt for choice as to who to sign up to.
If you are not a diehard football fan, you might also be happy to see other options like pay-per-view on the Net as well. SingTel has already been showing some matches on its miostadium.com video site, for S$8 a night, for example, and you can expect the next winner of the rights to offer alternatives to the traditional pay-TV set-top box option as well.
To be honest, I've surprised myself by "surviving" on a slimmer diet of football on the telly in the past three years. Some weekends, I head over to my friends' to watch, others I just pay the S$8 to view  Manchester United on my laptop. Yet other evenings, I get my friends over and we both share a small screen for S$8!
Try to stick with one operator
Everyone's got his favourite telco. Personally, I like M1's customer service, having been with them since the 1990s and now back in the "orange" camp. I also hear good things about SingTel's fixed and mobile networks, which some users say are relatively fast and consistent.
Whoever you prefer, keep as many of your services as possible with the same operator for everyone at home. The savings and convenience of a single bill are worth the effort.
StarHub certainly won many fans over a few years ago with its Hubbing deals. Today, if you got mobile, broadband and TV on StarHub, you still get discounts of up to 30 per cent on your mobile subscriptions, plus 10 per cent off TV and 5 per cent off broadband.
If that's too complicated to understand, StarHub also has nifty Hubbing packs, which include cable modem/fibre broadband, home phone and TV services. My pick from StarHub is the S$75 a month plan that comes with a 50Mbps fibre service, free local phone calls and up to 21 TV channels.
In fact, this is what I'd be upgrading my parents' old cable modem-based Hubbing pack from. It's certainly something I'd recommend if your parents are still paying SingTel almost $30 a quarter to simply "rent" a home phone line and then paying extra for making any calls. You shouldn't be paying for local fixed line calls any more!
Indeed, all the Big Three telcos have free home phone calls now, as part of their broadband packages.
SingTel has similar deals which bundle mio TV and fibre broadband offers and these are the ones I'd recommend if you must sign up for the last three months of this EPL season. Otherwise, it might be smarter to wait and see what's going to happen with the EPL bids in the middle of this year.
Personally, I'm on M1 now for broadband and my own mobile line and I intend to switch over two more mobile lines – my wife's and father's – to M1, so I enjoy its multi-line discount. This offers up to 30 per cent off your mobile subscriptions if you got four lines, and 25 per cent for three lines.
I did the calculations. I'm paying about S$55 a month now for my mobile plan now, but will pay only about S$38 when I switch those two lines over.
Switching over is hard to do
But that's only if you are not prepared for it.
I started by switching over the one service that I was really unhappy about – my cable modem service – last year. After more than a decade using it, I finally got fed up with some network issues (another long story about that) and switched to an M1 100Mbps fibre service, which only cost a few dollars more but was several times faster.
After that, I switched my mobile line over as well, again because of performance issues. Now, as the last two lines are going to be moved over because they are out of contract, I've realised you really don't have to go to the crowded telco stores, contrary to what the customer service chaps may tell you.
Over at the online stores for both SingTel and M1 (StarHub's current store is still in beta), you can specify that you are porting over a mobile line from another telco and choose the phone and plan you prefer and have the phone delivered to you without any of the fuss at the busy stores.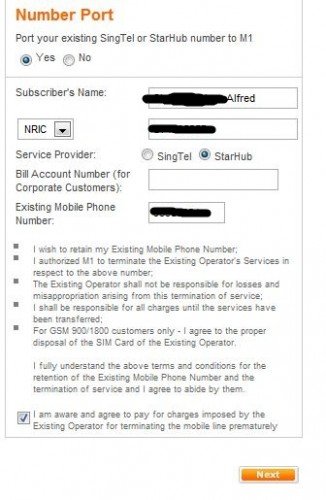 Switching over your fixed line phone line, say, from SingTel to a free phone service with one of these fibre broadband services should be just as easy. I, for one, switched my parents' phone line to a free one that came with a broadband plan and kept their decades-old number still used by elderly relatives.
So, switching can be made easier if you do some of the work online and over the phone instead of heading to the stores without knowing what you really want.
Of course, do your homework by browsing the offerings online – after all, once you've committed to a two-year contract, you don't want to pay any early termination penalties or go through the switching process again for a couple of years, at least.
Got a question or a tip on switching operators or going on fibre broadband? Share with us in the comments here.