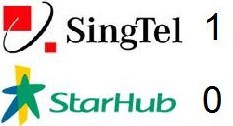 Now, that was fast. Less than 48 hours after SingTel and StarHub submitted their bids for the English Premier League (EPL) TV rights for the next three seasons, the red camp has just confirmed that it has won the fight to screen the live matches.
Yes, you will be watching EPL on a SingTel mio TV box from mid-2010, the first time that the broadband pay-TV operator has wrested the rights from the incumbent pay-TV provider.
Most importantly for football fans, SingTel Singapore CEO Allen Lew has promised no price hikes.
"Best of all, they will not be charged more than what they are currently paying to their cable TV operator, while at the same time enjoying superior experience and convenience from our integrated platform offering," he said, in a press statement this morning.
Now, a quick look at why this is good news:
1. If SingTel keeps its promises not to raise prices, it will be the first time in many seasons after a bid that football fans do not have to fork out more moolah to watch the same thing.
2. SingTel already has Champions League coverage, so the addition of the EPL matches will mean that viewers only have to turn to SingTel for the most important football coverage here.
3. Good riddance to Football Channel's Joe Morrison and the blur pictures from Dubai that are passed off as broadcast quality! SingTel has also won rights to ESPN Star Sports as well, so hopefully, we'd have John Dykes and his team back helming the coverage.
Why this is a piece of bad news:
1. For folks like me, who have no SingTel phone line, does that mean we have to install a phone line just to install an ADSL modem just to install a mio TV box? It's an area the regulators have to look at – it's quite clear you cannot force users to buy one telecom service to enjoy another unrelated one.
2. Many other sports programmes are still on StarHub, so that means you might have to forgo your favourite US Open or Wimbledon matches unless you keep your StarHub box – at a high cost in dollars and TV cabinet space.
Though the most important piece of news is out after months of speculation, some details are still sketchy.
Consider the following issues:
1. Will StarHub still be able to get into a wholesale agreement with SingTel?
Sure, the green camp has lost a competitive bid, but so far, the two sides have not said 'no' to sharing content. This though is unlikely, given how the regulator, the Media Development Authority (MDA), has really only been hands-off in the entire matter, and the English FA PL – the rights owners – are just happy to see a higher bid (it didn't take long for them to decide, did it?)
2. What now for StarHub?
It has to beg, borrow and steal – okay, not steal – from SingTel now, hoping that its bitter rival will share the rights with it, after it has itself monopolised the content for so long.
Immediately, you'd expect StarHub's pay-TV base to shrink. In Hong Kong, the incumbent iCable lost a chunk of its subscriber base after losing the region's EPL rights to rival PCCW in the last round of bidding.
This time round, the loss for StarHub is a hard one – its shares immediately took a 7 per cent tumble. The loss also means it suddenly loses so much clout in its Hubbing campaign without a good pay-TV lineup. That triple-play cred goes to SingTel from next year.
3. Will I have to pay more for mobile and broadband now?
It's been known that SingTel has paid over-the-top prices for TV content ever since it entered the pay-TV market, in a bid to challenge the exclusive deals that StarHub had previously established in more than a decade of monopoly. Now, how much did SingTel pay to get the rights this time round?
It won't be a small sum, I guarantee you. The last time StarHub won the bid, they were said to have paid US$150 million. This time round, some earlier speculation puts the figure at a stratospheric US$400 million.
What this means is that the cost of the bid will have to be transferred to someone. Will this be through your SingTel phone bill or your broadband bill? It's still anyone's guess now.
Let's hope for better coverage from SingTel, in any case. And, by the way, who wants to buy my StarHub HD set-top box?