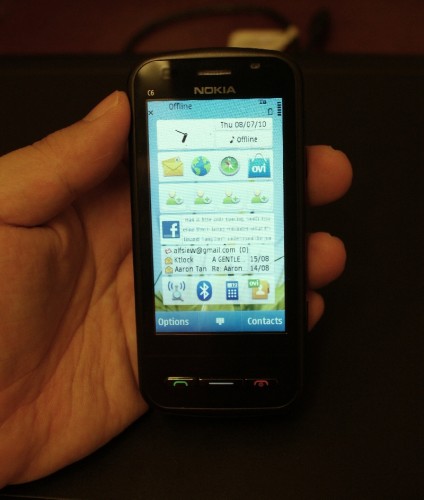 When I opened up the box for the Nokia C6 smartphone sent to Techgoondu for testing last week, I told myself to keep my expectations low – this was, after all, a low-cost phone from the rather beleaguered Finnish phone giant.
But what little doubt I had of Nokia's recent decline immediately disappeared when I fired up this sadly outdated slide-out number sold exclusively by M1 for S$98 (with a two-year plan).
It's almost like being caught in a time warp when looking at the C6's uninspiring 3.2-inch screen that sports 640 x 360 pixels. Compare that to the cheaper Samsung Jet (S$48 with two-year plan at M1), that comes a bright AMOLED screen with 800 x 480 sharpness.
Besides the display, the next most awkward thing I find about the Nokia C6 is its touch-screen. The resistive touch-screen is nowhere as sensitive as what you will get at even competitively-priced, low-cost phones, whether in the shape of the Jet or Sony Ericsson's Android-powered X10 mini (S$68, with two-year plan at M1) or X10 mini Pro (S$148, with two-year plan at M1).
Sony Ericsson's little wonders are not only cheap and fast, but can let you tap on to thousands of Android apps that run smoothly on-screen – something that the C6 struggles to do, even with apps that come pre-installed, like Ovi Maps.
When I try firing up an application on the C6, I often find myself tapping several times in frustration to get things going. And let's not even go into the scrolling function, which will have you wondering why things are not moving smoothly at all.
If the C6 was launched two years ago, or hey, even a year ago, you can still say the hardware design is great and that the keyboard, with its pop-up keys, is a really practical tool. But we've seen this design in previous Nokias, and the C6 shows just how far the company is lagging behind its rivals as it transitions from its terribly outdated and laggy Symbian OS to the upcoming MeeGo.
For an example, I only have to launch the C6's Ovi Maps, which takes several seconds to load, compared to Google Maps which loads in an instant.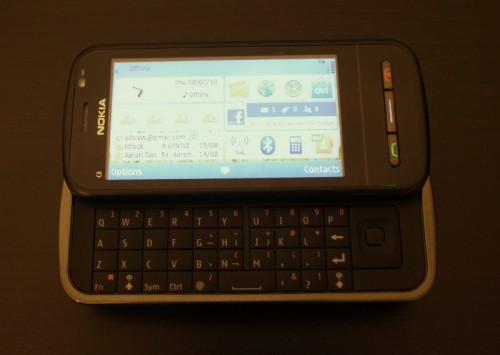 Meanwhile, despite e-mail being one of its better features, a message over Gmail didn't even load at all on the C6, even after I spent an entire minute waiting for it. All these tests were conducted over Wi-Fi, so as not to have a slow 3G connection cause a bottleneck.
The C6's Internet browser, surprisingly, can play YouTube videos, thanks to Flash Lite. But more importantly, because of the snail-paced Symbian OS and hardware, you only have to try navigating on the page a little to see how laggy things turn out.
That's not to mention that the browser takes a long time – more than twice as long as a top-end Nexus One, just for comparison – to load webpages. Because the C6's screen is not that responsive, scrolling through a page once again becomes a great test of  patience if you have ever used an iPhone or Android phone.
The only good thing I can say about the C6 is what I've said before about older Nokia phones – the easy e-mail setup. All I have to do to get my Gmail running on the device is to key in my e-mail address and password. The e-mail setup even has settings for SingNet mail, which many users in Singapore still use as an auxiliary inbox.
Unfortunately, the C6 is just simply outdated. In my mind, the worst offenders are the inadequate hardware, which results in apps running sluggishly, and the outdated apps themselves, like Facebook which requires you to open up an entire page to view comments to a posting, instead of just popping up the comments on the same page, as with Android.
With all these problems in mind, I find it hard to recommend the Nokia C6, despite its low cost. Even at S$98 (with a two-year plan), it is over-priced, for what appears like a two-year-old design.
Besides the Samsung Jet and Sony Ericsson Xperias at the M1 store, better deals can be had at StarHub, with the full-featured HTC Legend  and HTC Wildfire (both about S$50, with comparative two-year plans).