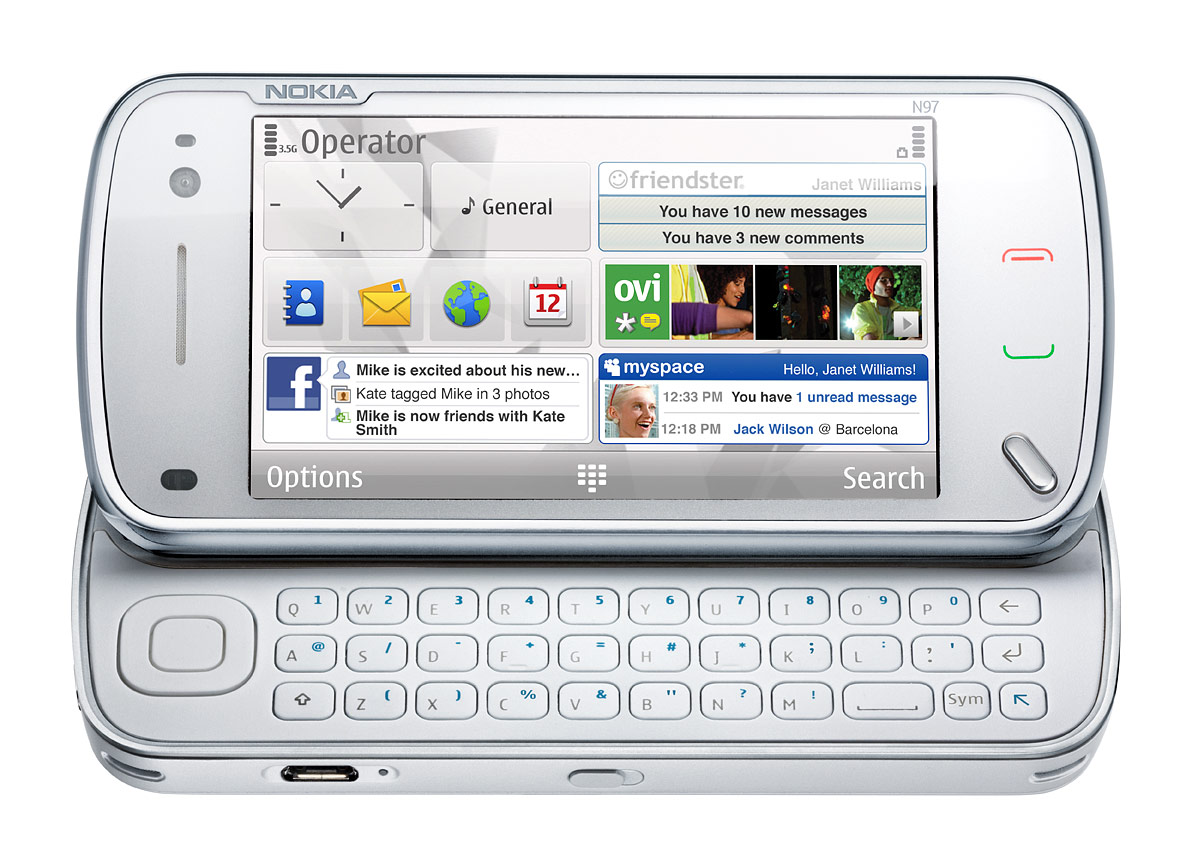 Right after Sony Ericsson shipped its Xperia X1, along comes Nokia's new N-series "hero" product, the N97, that comes with, surprise, a slide-out keyboard.
But unlike the Xperia, which runs on Windows Mobile, Nokia's N97 uses Symbian OS, the company behind which it recently acquired.
Notably, from early hands-on first-looks here at the Nokia World show in Barcelona, the N97 has a few promising features.
First off, the large 3.5-inch touch-screen, which really looks large even by iPhone standards. Its 16:9 aspect ratio means videos should fill the screen nicely too.
There's the nifty Qwerty keyboard, of course, and that slanted slide-out screen, which angles more sharply than the Xperia's, giving users a nice look at things without tilting their heads too much.
There's more. A new beta service called "So-Lo" will make use of the phone's AGPS and compass to help you get information on, say, the famous Sagrada Familia building here in Barcelona.
You simply point at the building and click. The AGPS looks up your location and narrows down the search to the famous Gaudi building, then displays additional information on it.
Using the same technology, Nokia believes that you can in future point your phone on, say, a movie poster and be able to watch a trailer and book tickets.
Clearly, Nokia's taking on everyone now – Google and its Android phone and Apple with its tightly integrated iPhone services.
The N97, packed to the brim with 32GB or RAM and expandable with another 16GB via a microSD card, does look like it will keep Nokia right up there with the top smartphones for the next year.
It's a big phone – somewhat like the old HTC TyTn II and Xperia X1 – but it looks good for its size. Not everyone's gonna buy it, but if you are a mobile geek who loves slide-out keyboard, this is something you may just pay the estimated 550 euros (S$1,100) for when it's out before June next year.
(Note: For Singapore readers, I'll be filing more Nokia's new technologies, including Nokia Maps, in the print edition of Digital Life shortly)