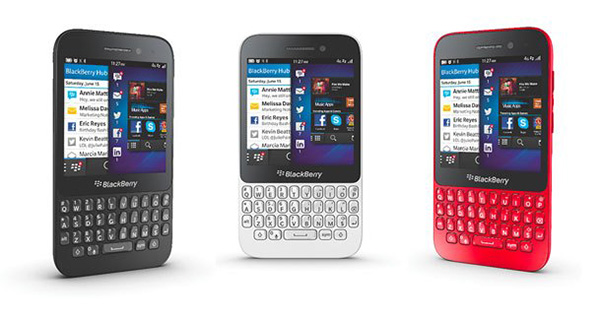 You've got to give it to BlackBerry for sticking to its guns.
Close to 5 months after re-branding itself from Research in Motion to BlackBerry and unleashing the first BlackBerry 10 devices into the world, the Canadian company is still showing no signs of the demise that many have gleefully foretold, even turning a profit of US$94 million in Q4 of 2012.
At its annual BlackBerry Live conference in Orlando earlier today, BlackBerry unveiled the new BlackBerry Q5 smartphone (pictured above), a QWERTY device (similar to the Q10) aimed at the company's strongholds in emerging markets such as Indonesia.
Set to launch in July, it features a 3.1-inch touchscreen on top of a physical QWERTY keyboard, and will come in red, white, black, and pink.
Other than that, we don't know much else about the Q5, except that it seems to be the BlackBerry Curve equivalent for the BB10 range. Also, expect it to be priced at an affordable level, especially with BlackBerry's new focus on the consumer.
BlackBerry also showed off an impending update to BlackBerry 10, fittingly named BlackBerry 10.1. This update will begin its roll-out to Z10 users immediately, and will bundle new additions such as HDR photography, universal search actions, and general bug fixes.
And last but not least, BlackBerry Messenger (BBM) service will finally make the jump over the Android and iOS to partake in the upcoming IM war, along with a new feature called BBM Channels.
Anyone can create a Channel, which other people can then follow to get the latest updates from the Channel creator. It sounds exactly like LINE chat's "Official Accounts", and should prove to be more popular among celebrities and brands.
We'll provide updates on local pricing and availability as soon as the're available, so check back soon!
Update (15 May 2013, 4:44PM): Here's what you can find inside the Q5: a dual-core 1.2GHz processor, 2GB of RAM, and 8GB of storage with support for a micro SD card of up to 32GB. Surprisingly, the 3.1-inch display has 720 x 720 pixels, which is pretty good for a budget model. There'll be a 5-megapixel rear camera, and a 2-megapixel front camera. NFC will be optional, and the Q5 will come with LTE support.