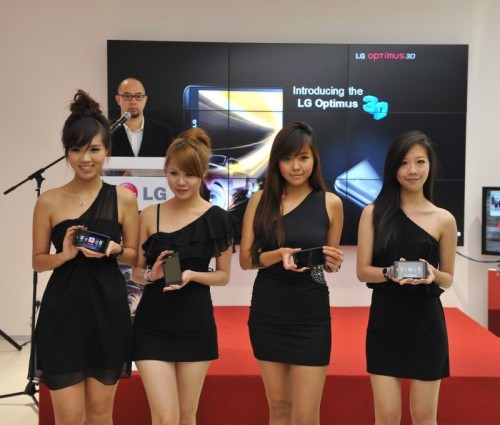 Another day, another 3D phone being launched in Singapore.
Right after HTC touted its Evo 3D phone yesterday, Korean handset maker LG today showed off its Optimus 3D to reporters here, confident that its S$938 phone will make people start taking pictures and videos in 3D and view them on the screen without using any special glasses.
The  Optimus 3D is essentially a fully-spec'd out phone that has a couple of 5-meg cameras on its back that enable users to shoot both 3D images and videos. The 168-gram gizmo comes with 8GB of storage and shoots 1080p@24fps Full HD videos on 2D and 720p@30fps HD videos on 3D.
With a dual-core 1GHz Arm Cortex A9 chip and PowerVR SGX540 GPU, it also appears to pack enough muscle to handle the additional video features.
To view the videos, the Optimus 3D comes with a 3D-capable 480 x 800 pixels screen that offers a generous 4.3 inches of viewing space. From today's brief hands-on session, we can say it's a decent screen in terms of brightness and vibrance, which is not surprising considering LG is the number two TV maker after Korean rival Samsung. And you don't have to wear any glasses to get a sense of the depth.
LG was at pains today to show how easy it was to share 3D content on YouTube. It also says it will be able to convert all your current 2D images and videos to 3D via a software update by Q4 this year.
UPDATE: LG has clarified that the Optimus 3D can already convert all your current 2D images and videos to 3D now. The software which will be available by Q4 will enable 2D to 3D conversion of applications which means that 3D viewing will not be limited to just games and user-created content.
Of course, you can also opt to view your videos on your 3D-enabled TV screen by plugging your phone in via its HDMI port. Note though that your TV would usually require you to wear 3D glasses.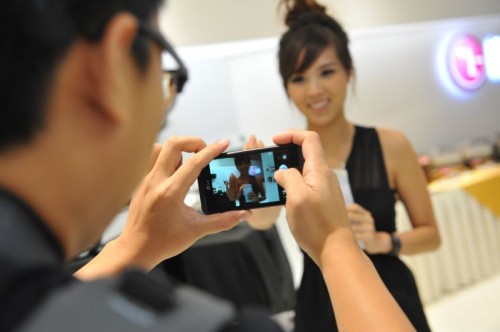 At demos today, the 3D games and images do appear pretty lifelike and without much of the crosstalk that plagued the first 3D devices in the past two years. Today, first-person shooter games in 3D provide a much more intense in-your-face experience, as do holiday videos which become a lot more personal with 3D.
But 3D presents some interesting challenges when it comes to snapping pictures. Like most of today's phone cameras, the Optimus LG doesn't like to take macro shots in 3D, because they somehow screw up the idea of depth and make items sometimes take on distorted dimensions.
Also, from the pictures we were shown today, sometimes reflections do weird things as well. A reflection on a piece of glass, for example, looks like it's trapped in 3D space in a ghostly manner when it would usually just appear like it is in real life – on a piece of glass.
Despite these little glitches, LG executives are sure 3D is the next wave. Just like cameras were once a novelty on phones, they are now an expected feature, said Arthur Huang, LG Electronics Singapore's chief operating officer. In fact, he told reporters that 3D would be the differentiator for Android phone makers looking to better their rivals' offerings.
Which brings us to the OS on the Optimus 3D. It's interesting that LG is running only Android 2.2 on the phone (with an update expected by Q4 this year), when the latest Android 2.3 has been out since last year.
Would people care? The techie who is interested in 3D right now might. HTC's Evo 3D, after all, comes with Android 2.3.
Should other smartphone users care at all about 3D? We think it's still a niche feature right now, but it does look like phone makers are trying their darnest to make it an essential part of the standard feature list.
It's definitely not something to seal a deal yet. But what 3D has going for it is that it doesn't add much more cost or weight to the device for consumers, who as LG hopes, might just take to taking pictures in 3D and sharing it with friends.