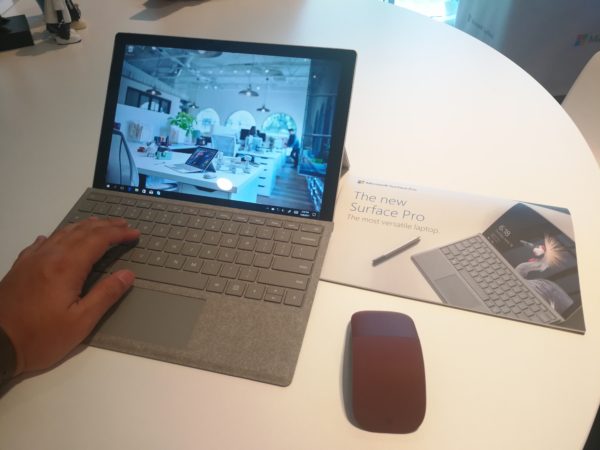 If you looked at the latest Microsoft Surface Pro for the first time, you might not notice the differences with the previous tablet-laptop hybrid it replaces.
This year's iteration, coming almost two years since the Surface Pro 4 in 2015, might be one of the least ambitious since the company first introduced the lineup back in 2013. The reason is simple – the formula already works.
The familiar tablet-like 12.3-inch screen offers a nice balance between a large tablet display and thin-and-light ultrabook screen. What you get, Microsoft will hope, is the best of both worlds.
No stranger either is the 2,736 x 1,824 resolution that is sharper than many of your average laptops. At a media launch today, I was impressed by the fine details on display. Impressive too is the colour balance, which does not veer into the realm of over-saturation.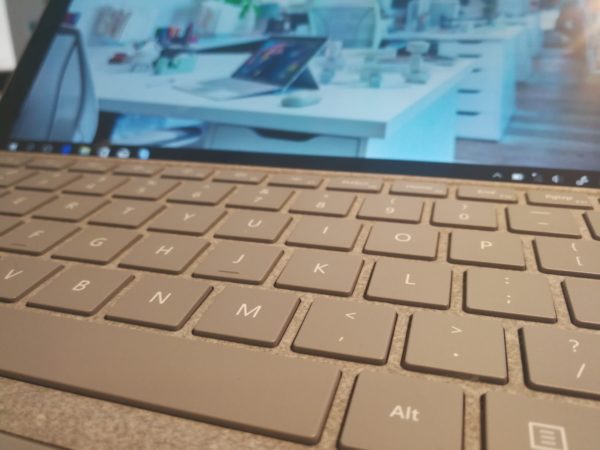 One of the star features is the 10-point multi-touch screen that Microsoft was keen to show off today in Singapore. Professional artists now use the tablet to draw and illustrate images used for commercial purposes.
I still consider Apple's iPad Pro the gold standard when it comes to mimicking a physical writing pad or drawing board (outside of the professional-grade Wacom Cintiq digital canvases). However, the Surface Pro is no slouch with its own stylus.
The Surface Pen does very well to enable the different strokes you can apply to a surface. Said to be twice as sensitive as a previous version with more than 4,000 levels of pressure sensitivity, it lets you vary your strokes easily, say, by tilting it at an angle for shading.
It feels natural too, especially with the added "feel" that you get while moving across the surface. Instead of feeling like plastic on glass, it comes across as almost like pen on paper, thanks to the added friction.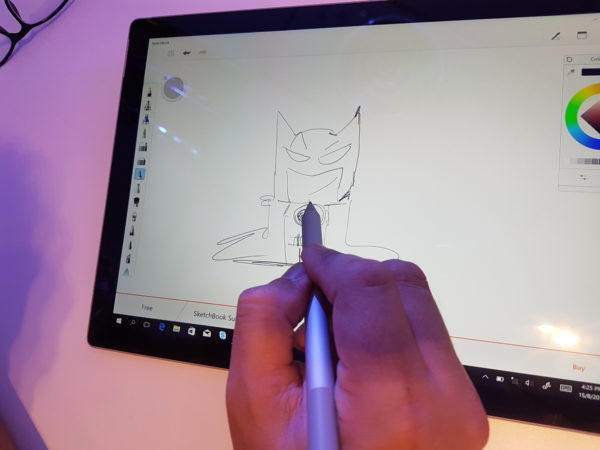 The bad news is that the stylus is now not included in the price. It costs S$148 and if you are want to pick a pen tip, say, for the feel of a fine-point pen, be prepared to pay another S$34.
The other thing you'd expect to pay is the S$199 Surface Pro Type Cover. This is really a must-have for the Surface Pro, because without it, the device becomes a tablet, not a laptop. You won't otherwise be shelling out at least S$1,188 for it.
Good news is, the keyboard is excellent. For one that is so thin and light, there is surprising key travel, so you don't bang your poor fingers so painfully into a hard surface. I write for a living, so a keyboard like this, especially with the snap-on convenience, is a big plus.
One other thing you'd notice on the new tablet is a slight change to the hinge. Though it looks familiar, it now lets you push the tablet way down, almost flush to a table top. Great for drawing something on the screen, or simply reading a magazine.
There are still the old bugbears, to be fair. It's not hard to imagine the trickiness in balancing the Surface Pro on your lap, for example. Even though recent versions have been easier, you should expect to have the stand biting into your thigh if you sit for long stretches.
Plus, if you have always preferred a laptop, not a tablet, then you might find the Surface Pro still lacks the solid feel of a traditional thin-and-light clamshell design. The Dell XPS 13, for example, is so portable yet feels bomb-proof.
For those who want a two-in-one, that's another story, of course. With this in mind, Microsoft is simply fine-tuning a great design that has won over many users over the years. Remember when you wanted to junk your laptop for a tablet in the past?
Well, not any more. It has been four years since the first Surface Pro tablet-laptop hybrid turned up in Singapore and the latest version will likely wow users again.
For this year's model, Microsoft has updated the internal hardware to Intel's seventh-generation Core chips, just as the chipmaker is looking to unveil the next generation next week.
For many users, that might not matter, since they would be buying the Surface Pro more for its usability than the latest processors. Some might wait, though, for rival PC makers to come up with hybrids similar to Microsoft's but with the latest chips.
This year's Surface Pro isn't shabby, to be fair. With its Intel processors, it promises 50 per cent more battery life than the previous Surface Pro 4.
Plus, the six models available in Singapore mean you can choose from a basic S$1,188 Core m3 model with 4GB RAM and 128GB solid state storage to a top-end one with a Core i7, 16GB RAM and 1TB storage costing S$3,888.
The best bet, I wager, will be the middle of the pack. With an Intel Core i5 and 8GB RAM, you'd be able to run your Photoshop and Illustrator well enough on the go. Plus, 256GB of storage will be handy as well. That costs S$1,788.