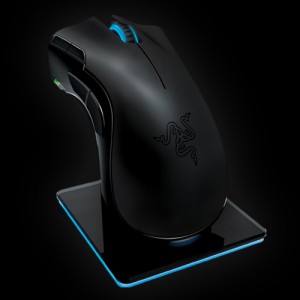 I managed to get my hands on the prototype of the new 2.4 GHz wireless mouse that has set a new record at 5600 dpi speeds, beating the new Logitech G9x's 5000 dpi by a whisker.
The Razer Mamba is developed right here in Singapore at the labs of the US gaming peripherals maker. It has amazing responsiveness for a gaming mouse with only 1 ms latency (gaming mice suffers from lag because the mouse has to transmit data from the mouse to the receiver connected to the PC)
You see the gap at the top of the wheel? That's where you can plug in the USB charger cable and use it like a wired mouse. So you don't have to scream your head off while waiting hours for your wireless mice to charge on its dock. Plus, it charges the mouse battery while you are using it in wired mode.
My conclusion: It felt just like a bloody good wired mouse to me!
Updated: Forgot to mention the retail price is US$129 and it will be available Q1 this year in Singapore (likely to be sooner than later)
Read my complete review in next week's Digital Life.