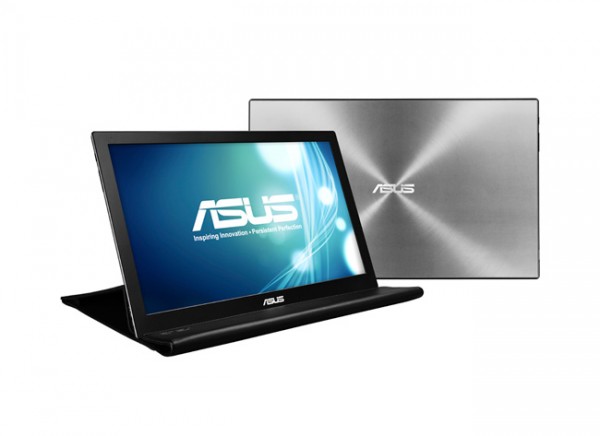 Asus is not the first one out with a portable monitor – Toshiba had one two years ago – but the Taiwanese manufacturer's MB168B+ slim screen is surely one of the smartest and most practical.
Very light at just 800 grams and conveniently powered by a USB 3.0 connection, the 15.6-inch Full HD screen comes in handy for folks who want a large screen on the go – without always carrying a heavy laptop.
I, for one, will be grateful for a second screen to plug into a laptop when I'm reporting at events while overseas. It provides a much-needed additional display, say, for comparing notes, while also not burdening you too much with its weight.
I can move around an exhibition hall with my light ultrabook (about 1kg), while leaving the Asus MB168B+ in the hotel room, where I can set up the two screens for a wrap-up article or editing photos in the evening.
Convenience is one big selling point here. The MB168B+ can be kept in a thin case, making it so easy to carry around. This case also works like a tablet case, which can be folded to prop up the screen at various angles.
And like a tablet, the MB168B+ will auto-rotate after calibrating. This makes for a nice way to read your text, say, vertically, if you wish to. For reporters who like to scroll through narrow lines of text, this is a great feature.
Once powered on, the Asus display can be used like how you'd use a projector, either as a second screen or an extended screen. As an extended screen, it is invaluable for a number of tasks. You can, if you want to, watch a movie on one side and work on the other.
Actually, that's what I did. I plugged in the MB168B+ to my Sony Vaio laptop, which provides the power for the screen via a single USB 3.0 port. Without having to use its own power connector, the MB168+ remains very portable.
I even played a few HD movies to see how the screen quality is. Generally, the videos remind you of Asus' Android tablets, which often offer great contrast without overdoing things.
Admittedly, the 11-millisecond response time is not the fastest out there (many promise under 5ms), but it should suffice unless you're fussing over watching a movie in its immaculate condition while on the go.
The MB168B+ is a great effort by Asus, perhaps marred by a slightly strange setup process. I got error messages when I popped in the CD driver to install on my Windows 8 laptop. Still, despite that, things installed okay and I managed to use the monitor.
Other than that, the US$199 screen is very interesting for those on the move all the time. If you desire a larger screen on the go, without all the bulk involved, then the MB168B+ is a great companion.
Pity the name is a little strange from Asus. This is, in many ways, a breakthrough product which deserved a better name. Apple would have called it Magic Screen or something fancy and easily gone on to sell millions of it.