Samsung started bringing its new Gamepad and Bluetooth Speaker (EO-SB330) to Singapore last week, promising to elevate the mobile gaming experience for many users who want the experience of a gaming console.
The launch comes at an opportune time, with many of the most popular mobile games sporting console-like graphics, audio and multiplayer capabilities.
With a button layout reminiscent of an Xbox and Playstation controller, the Samsung Gamepad allows gamers to connect and play with no learning curve. The Gamepad also features an eight-way directional pad instead of the usual four-way, offering greater in-game control and precision.
While the Gamepad can connect with your devices via Bluetooth, its most convenient features have been optimised for Samsung Galaxy devices running Android 4.3, which can pair with the Gamepad via NFC (near field communications).
Combined with the EO-SB330 Speaker, which pairs with devices via Bluetooth and NFC to provide up to 15 hours of audio playback, both devices transform the normal smart device into a quick-to-set-up gaming console.
Users can even connect their Galaxy devices to their television via a HDMI cable or Screen Mirroring to unleash the full television gaming console experience.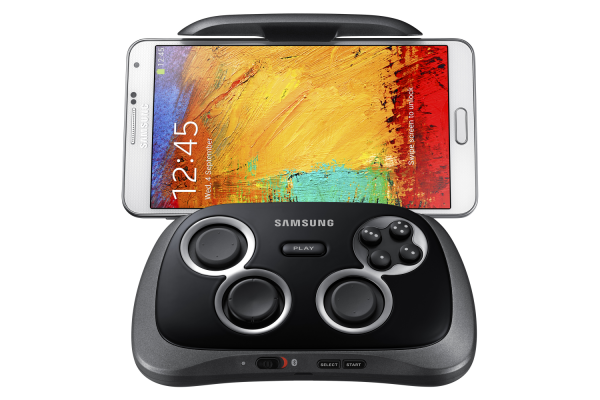 Devices with screen sizes from 4 inches to 6.3 inches can be mounted directly onto the Gamepad as well, which perfect for Galaxy Note users
The Gamepad also comes with the Mobile Console app, Samsung's new integrated game-launching app that can be accessed on your smart device with a simple tap of the Gamepad's "Play" button. The Mobile Console allows users to conveniently browse and purchase Gamepad-optimised games, which include popular titles such as Gameloft's Asphalt 8: Airborne, Modern Combat 4 and EA's Need For Speed Most Wanted.
Despite its promising features, the Gamepad and Speaker have limitations.
The Gamepad's biggest drawback is the lack of R2/L2 buttons, leaving the console incompatible with future gaming titles that might require them, as well as frustrating avid first-person shooter fans like myself over the loss of our usual flashbang and grenade throwing buttons.
Samsung's omission of the R2/L2 buttons is puzzling, considering that competitor models such as the Moga Pro Power Controller (Android) and Steelseries Stratus Wireless Gaming Contoller (iOS) include R2/L2 buttons. In addition, the Gamepad does not seem to be able to charge your device as you play, unlike the Moga Pro.
While the Gamepad makes a good home gaming console out of your smart device, its feasibility as a portable gaming console is questionable. The failure of Nokia's N-Gage has shown that consumers are generally not in favour of doubling up their phones as serious gaming devices when on the move. Together with an abundance of entertaining apps that do not require any console controller, this means not everyone will feel compelled to bring the Gamepad out of the house.
For its limitations, the Gamepad is still priced at a reasonable $158. The same cannot be said for the EO-SB330 Speaker, which sets users back by $268. Unlike similarly priced wireless speakers in the market, there aren't any additional features like a radio and clock.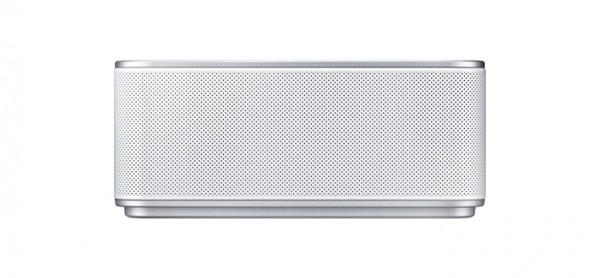 The speaker comes in two models – black and silver
Overall, the Gamepad still has its strong merits – FPS and car racing fans will greatly appreciate the precision of the Gamepad over the less accurate touch screen, and the potential of your smart device to function as a pseudo-Playstation or Xbox is very exciting.
Still, for the sake of gamers and Samsung's desire for a greater share of the mobile gaming console industry, one can only hope that future models of the Gamepad will feature the full controller layout. As for the EO-SB330 Speaker, the pricing may need to be more competitive.