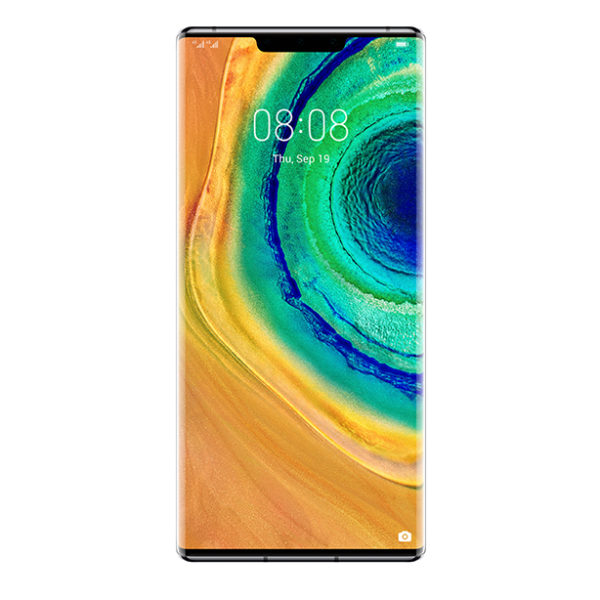 Let's start with the biggest question that has been asked for months. So, the Huawei Mate 30 Pro unveiled today will run an open-source version of Android but will not have crucial Google services.
This means you can't get Gmail or Maps on the new phone and you have to manually "sideload" popular apps like Facebook or Instagram, because you won't have access to Google's app store as well.
Is this going to be a deal breaker for many Android users? We will know in the coming months as users get to know the first Huawei phone affected by the United States trade war with China.
At least, Huawei is putting on a brave face and firmly betting that its hardware will convince users it is worth the trouble to find alternatives.
At least with Android 10, layered on top by its EMUI 10 interface, the Mate 30 Pro isn't totally divorced from the ecosystem. Huawei has taken the smarter route instead of going with its own operating system, at least for now.
For sure, the Chinese company has to beef up the number of apps inside its App Gallery and for that, it is going to invest US$1 billion to boost the Huawei Mobile Service (HMS) ecosystem. It will take some time for the ecosystem to mature even though it currently has more than 45,000 apps.
How well will some of these apps run on the new Huawei flagship phone? We'd get a better picture once we have the phone for a bit longer. Meanwhile, it is no surprise Huawei has pulled out all stops in terms of hardware.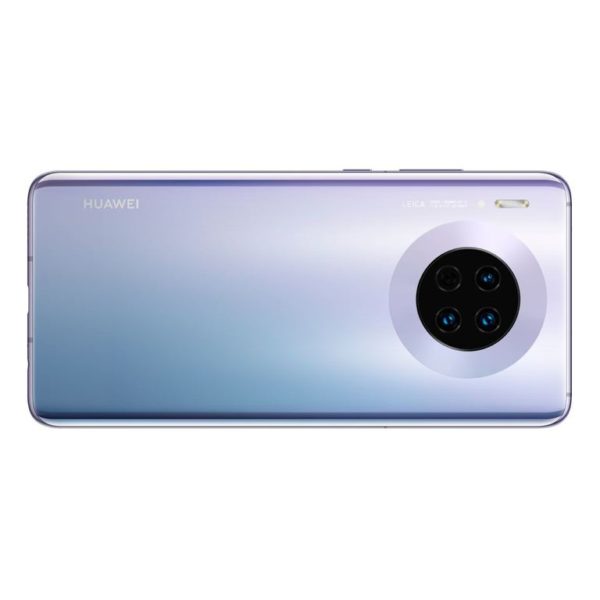 Here, the new phone represents the best that Huawei has. The most obvious improvement is the inclusion of the new 6.7-inch AMOLED FullHD+ "waterfall" screen running at 90Hz with DCI-P3 colour space.
Unlike the Mate 20 Pro and the P30 Pro, the new phone has a steeper angle of 88 degrees on the sides of the phone, giving the illusion of a bezel-less screen if you look at the phone straight on.
It has another added benefit as the waterfall screen creates a more squarish shape for a more assured grip of the 198g phone. The screen animation also seems smoother thanks to the faster refresh rate.
If not for the notch at the top of the screen, the phone would have looked perfect. Good thing that the notch is smaller now and it can still be hidden with an add-on black bar, just like on previous Huawei phones.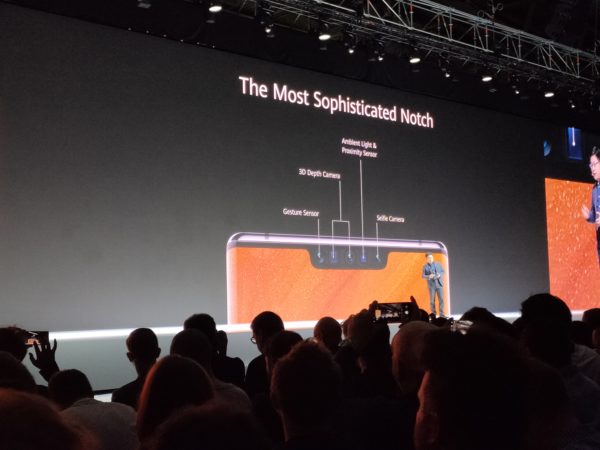 There are arguments to have the notch, of course. It holds a gesture sensor, a dual sensor 3D depth camera for use with bokeh effects on selfies, an ambient light and proximity sensor and a 32-megapixel f2.0 selfie camera.
Interestingly enough, the new phone does not have a volume rocker button. Instead, the volume is controlled through touch controls on either side of the screen.
This interactive side-touch feature can be customised too. You can add a shutter button to the side, so photos can be taken just like on a typical compact camera.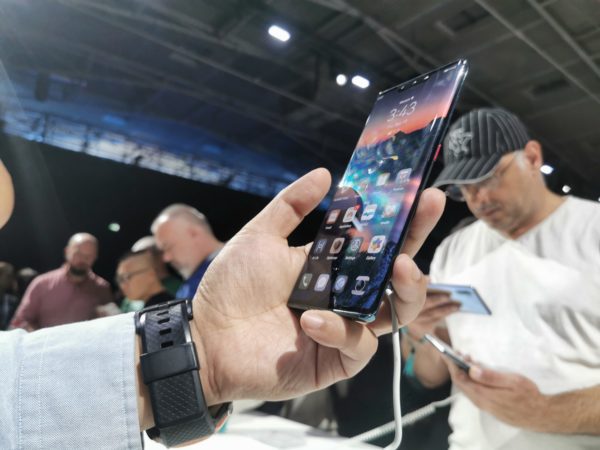 There will only be a single on/off button at the right side of the phone. The 3.5mm headphone jack is gone as well, but not having it helps with the IP68 weather-proof rating for the phone.
The Mate 30 Pro is the first phone to use Huawei's 5G Kirin 990 chipset. It promises a theoretical download speed of up to 23Gbps and upload speed of up to 1.25Gbps.
This means you can download a 4K movie in about 35 seconds. This new phone can also support 5G data with both SIM card slots but only one SIM will have 5G access at any one time.
The artificial intelligence (AI) performance in the new phone has also improved, besting both the Samsung Exynos 9825 and Qualcomm Snapdragon 855, according to Huawei's launch of the chip earlier this month.
Better AI performance will make interacting with your phone or unlocking the phone through facial recognition faster and more accurate. We'll be able to see if this works as well in real life when we get to try out the phone a little longer.
For avid gamers, a 16-core Mali-G76 GPU has been added into the chip package too, which promises smoother graphics during gameplay.
Even though the clock speed is now slower at 600MHz, down from the Kirin 980's 720MHz, having more processor cores should make the Kirin 990's GPU faster than its predecessor.
There is certainly nothing to complain about the engine room in the Mate 30 Pro. With 8GB of RAM and 256GB of storage space, the new phone will not have an issue supporting the latest Android games and apps.
And what about the cameras, the biggest selling point for Huawei of late? They look different on the new phone.
So, instead of the iconic square camera housing on the Mate 20 Pro last year, this new phone sports a circular housing design that incorporates four cameras.
For the two main cameras, I had expected an upgrade of resolution to 48 megapixels like on Huawei's own Nova 5T. Instead, it has incorporated two 40-megapixel sensors – a 1/1.7-incher for the regular f1.6 camera and a 1/1.54-incher for the f1.8 ultrawide camera.
A larger sensor means it should perform well in low-light situations. At least on paper, the Mate 30 Pro's sensors appear to be able to perform better than the Samsung Galaxy Note 10, which has a 1/2.55-inch, 12-megapixel sensor. We'll learn more with a test unit soon.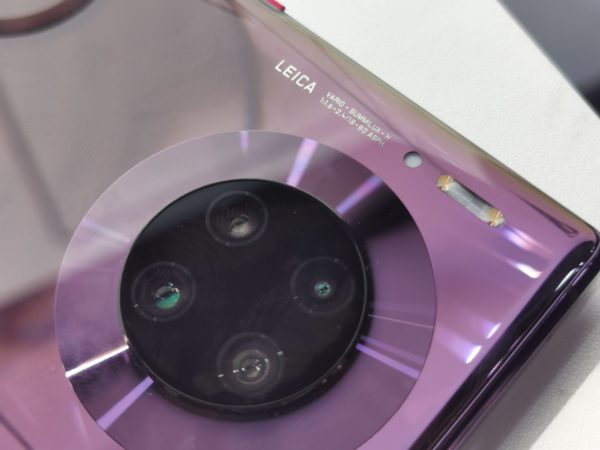 What the Huawei Mate 30 Pro will not get is the P30 Pro's 5x telescopic telephoto lens, which is a surprise. The new phone sports a 8-megapixel 3x optical telephoto lens, which will still be handy.
The improved Dual Image Signal Processors on the Kirin 990 will also help with photography and videography.
Using a method called block-matching and 3D filtering, it can produce cleaner images and video clips with the reduction of ISO noise and improving low-light performance with the help of bigger sensors.
I would expect to see less "blocky" or "watercolour" effects in night scene shots from the new phone's night mode. Certainly a promising feature to try out more.
Huawei has also added a Xenon flash to the back of the phone. Of course, this can end up being unflattering if the light is shone harshly at a person, so I'd use this as a last resort, given Huawei's proven low-light performance.
Like the Mate 20 Pro, the Mate 30 Pro comes with an 18mm full-frame-equivalent ultrawide-angle camera that photographers will appreciate.
The Cine Camera is also the first to capture as many as 7,680 frames per second for super slow-motion capture. Yes, to freeze a subject at the right moment.
Unfortunately, having such high frame rates may sound impressive, but more often than not, this sacrifices image resolution to gain speed and the maximum resolution here is still 720p.
For me, the most important video feature in the Mate 30 Pro is the ability to record 4K clips at 60fps. This will produce silky smooth video footage and offer more leeway to post-edit the video.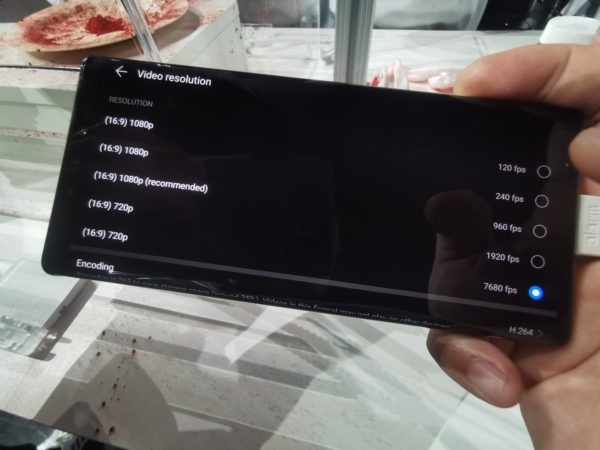 All these features would mean nothing if the phone runs out of juice, of course. To keep things running, the Mate 30 Pro supports both 27W wireless charging and 40W fast charging.
Will the Huawei Mate 30 Pro win over users with its hardware? Certainly, it has the makings of yet another powerhouse flagship phone.
Will this be enough to overcome the lack of apps? Or will the Chinese company find a way to get users to forgo their favourite Google apps they can't do without now? We'll see in the months ahead.
The cost of the Mate 30 Pro in Europe will be €1,099 or S$1,675, which isn't cheap like most top-end models today. It will be out in Singapore in the next three months but pricing is yet to be revealed.