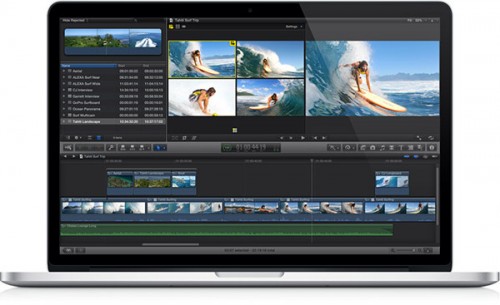 After weeks of speculation that Apple could bestow its Macbook Pro with Retina displays, the Cupertino-based company finally let the cat out of the bag at its worldwide developers conference yesterday.
Besides a whopping 2880-by-1800 pixels display, the new 15.4-inch Macbook Pros also sport the latest Intel Ivy Bridge quad-core processors, up to 16GB of memory and up to 768GB of flash-based storage. With a side profile of 1.8cm that's cutting close to Macbook Air's, there is no room for an optical drive, which Apple has done away with.
There is no LAN port either, so hooking up the Macbook Pro to a wired network will require a Thunderbolt Gigabit Ethernet adapter that can be plugged into one of the two Thunderbolt ports.
With the new Macbook Pros, Apple is officially axing the 17-inch Macbook Pro from its portfolio. According to Apple, the large-screen model only accounts for a small fraction of Macbook sales, though creative types who need the extra screen estate for working on multiple windows will be disappointed.
To take advantage of the higher pixel count, Apple has also updated its native apps such as iPhoto and Safari. Earlier last month, higher-resolution icons for the TextEdit and Automator applications were also introduced in the Mac OS X 10.7.4 update.
Like all Ivy Bridge laptops, the new Macbook Pros have been upgraded with Intel's HD 4000 integrated graphics. There's also a discrete Nvidia GeForce GT 650M graphics chip that will serve up all the eye candy in 3-D apps and games. With the new chip, Apple is once again turning to Nvidia to power its laptops, after switching between the AMD/ATI and Nvidia since the launch of its first Intel processor-based Macbook in 2006.
"Based on the next-generation Nvidia Kepler graphics architecture, the GeForce GT 650M offers unprecedented performance and extreme energy efficiency, giving it the muscle to process the 5,184,000 pixels in the next-gen MacBook Pro's ultra high-resolution display. The GeForce GT 650M is not only up to the task, it maximizes power efficiency along the way," said Rene Haas, general manager of Nvidia notebook products, in a blog entry yesterday.
How well the GT 650M performs on the new Macbook Pros remains to be seen, though recent reviews of the graphics chip in Ivy Bridge laptops have been favourable. For example, HP's Pavilion dv6 scored over 14,000 points in the 3DMark06 benchmark using the same graphics engine, albeit with a Core i7 processor.
As usual, Apple does not list the exact Intel quad core chips that it's using in the new Macbook Pros. But based on their published clock speeds of 2.3GHz, 2.6GHz and 2.7GHz, it's likely that the new babies will be shipping with a Core i7-3615QM, Core i7-3720QM and Core i7-3820QM respectively.
So should you go out and grab one of these shiny new toys? Priced at S$2,988 a pop for the base model, the souped-up specs, Retina display and slimmer shell do not come cheap. Unless you are willing to splurge on bragging rights or a graphics designer who requires an ultra high-resolution display, it's best to save the money for a rainy day.