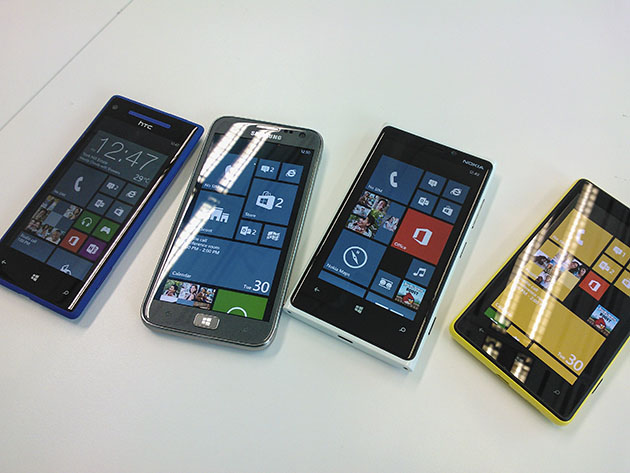 Windows Phone 8 is finally official. Microsoft's new mobile OS is packed with so many new features and other refinements that Windows Phone 7 is beginning to seem like a worldwide beta test before the real product arrives.
Before we get our full reviews in, here's a whirlwind tour of the new Windows Phone 8's line-up.
Nokia Lumia 920
Almost everything we know about the Lumia 920 so far are through pictures only, and chances are when you see one in real life, you'll be surprised at how much heavier and fatter than it looks. The Galaxy S3, even with its bigger screen, is slimmer and lighter. Using the Lumia 920 with one hand is thus very uncomfortable.
The phone's unibody poly-carbonate construction is a direct descendant from the Lumia 800/900, and feels almost exactly the same – which is to say, sturdy, premium and beautiful. This phone will definitely survive a few hard knocks.
The front of the device is taken up by a smooth piece of Gorilla glass, just slightly curved at the edges to make sliding your finger across more comfortable. On top of the three standard Windows Phone buttons is a 4.5-inch screen (1,280 x 768).
It's not particularly big by today's standards, but the screen packs a new Nokia tech called PureMotion HD+. It's supposed to make the already smooth Windows Phone OS feel even smoother, but I didn't feel any particular difference over my Lumia 800. It's also supersensitive, responding even when users are wearing gloves.
A host of nifty accessories such as headphones and speakers spiffs up the functionality of the phone. Wireless charging is also built into the phone, so any charging pad conforming to the Qi standard should work on it.
But the killer feature of the Lumia 920 is undoubtedly its 8-megapixel PureView camera, which boasts a large f/2.0 aperture and actual optical image stabilisation. The OIS allows the shutter to stay open longer and thus soak in more light, while keeping the image shake free. Videos also benefit from noticeably less shaking. The result is quite simply the best phone camera I've seen (with the exception of maybe the 808 PureView).
With all the jam-packed features, it may stand to reason why the phone is so fat and heavy. But it's definitely going to lose some points in favour of the sleeker phones out there. I'm also not sure if the battery will be able to hold up.
That said, the Lumia 920 definitely stands out most among its launch peers, and is a great buy considering Nokia's commitment to the platform and all those exclusive apps. Local buyers will have to wait till early December to get their hands on one, though.
Nokia Lumia 820
Compared to the Lumia 920, the cheaper 820 actually presents several other advantages over its big brother.
For one, it has a micro SD slot for storage expansion, so media junkies will have plenty of space on top of the built-in 8GB. The 4.3-inch screen is a mere 800 pixels by 480, but it's a familiar size and fits great in the hand.
The 1650mAh battery is relatively tiny but can be swapped out whenever you're running low. I also like how you can snap on different colour shells on the phone, a throwback to the old Nokia 8250 days.
But colour is not the shells' only advantage: you can also snap on one with an NFC chip or a wireless charging plate. Making these features optional probably helps to keep the price of the phone as low as possible, which is always good news.
The Lumia 920's hardware in the 820's package would have been very nice indeed, but the latter phone makes for a mid-range phone that is a decent alternative against other mid-range Android smartphones.
Windows Phone 8X by HTC
The Windows Phone 8X by HTC is looking better and better every time I meet it. It's akin to a Google Nexus device and is Windows Phone 8 as Microsoft envisions it to be. You won't get any other WP8 experience as pure as on this phone.
The phone made an excellent first impression when I played with it back in September. Its design is fresh, fit and finish fantastic, and the camera no slouch. It comes with some minor software customisation, and of course, the obligatory Beats Audio in a high-end HTC phone.
When placed next to the Lumias and the Samsung Ativ S, there's no question that the 8X display is by far the most superior. Clarity and brightness is unrivalled and the tiles really seem to pop. LCD is after all a more mature technology compared to LED-based displays. The Samsung and Nokia screens look disappointingly dim in comparison.
But an important drawback is the lack of many exclusive apps that Nokia users will have access to, so it's a throw-up here. A sleeker phone with less features, or a heavier one packed with features?
Samsung Ativ S
Looking ever so slightly like the Galaxy S3, the Samsung Ativ S brings the biggest screen to the Windows Phone camp to date. Its 4.8-inch (1,280 x 720) Super AMOLED display is a tad too over-saturated for my taste, but the tiles are right at home.
Samsung seems to be good at making thin and light phones, and the Ativ S is no different. The shape and feel of the phone is reminiscent of the Galaxy S3, but feels more premium due to some metallic components. Still, it's mostly plastic painted to look like metal.
Other than that there's nothing really distinctive about the Ativ S and in many ways it feels like another one of those Android phones cloned for Windows Phone as an afterthought. It's a nice phone, but Samsung isn't giving Windows Phone the same attention HTC and Nokia are giving.
Round up
Windows Phone 8 is coming out the door with a range of good phones, but truly the barrier for consumers to cross is not whether they want a Nokia Windows Phone, or a Samsung Windows Phone or an HTC Windows Phone. The real question is whether they want a Windows Phone at all in the first place.
But while Android and iOS look relatively similar, Microsoft has successfully created something that's undeniably distinctive from its competitors. And really, this is Windows Phone for real at last, with long-awaited features for both consumers and developers.
Will 2013 be the year we see Windows Phones take off?