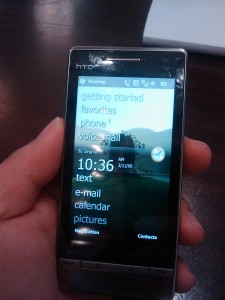 Got my first touch-and-feel of HTC's upcoming Touch Diamond 2 phone, which will run on Microsoft's Windows Mobile 6.5 when launched later this year.
As the name suggests, this followup to the popular Touch Diamond is pretty similar in shape and design to the original. However, there are some key differences:
>> It's bigger:
Although the specs only betray a hint of this, version 2 does feel bulkier and less "pocketable" than the original, which had the petite size that just about feels right for both weekdays and weekends. For those looking for a super-slim look, the Touch Diamond 2 may feel just a wee bit too big.
>> It's got a bigger screen:
Fortunately, the trade-off for the extra girth is a larger screen, which makes surfing the Web and viewing videos easier. This also makes it easier to access touch functions. Gone are the original Touch Diamond's "circular" button at the bottom. In its place is a slim line of four buttons for functions like answer/hang up.
>> It's got a shiny back:
I didn't like the plasticky "diamond-shaped" back cover of the original Touch Diamond, and I'm still uncertain of the shiny, mirror-like finish on the new version. Others might find it classy, but it looks like a strong fingerprint magnet for me. And ladies should beware of guys placing one of these "mirrors" under the table.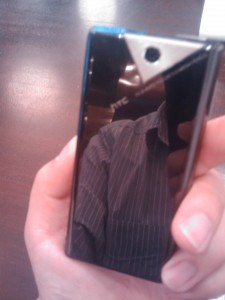 >> It's got Windows Mobile 6.5
It was the Microsoft folks who showed us the device, so naturally this gizmo came with an early build of their latest mobile OS. One good thing is that the Windows Start bar is gone – a bane for many who wanted a pure "touch" interface" rather than a "wrapper" like HTC's Touch 3D.
On the new OS, you get clickable icons for your SMS text, pictures and favourites when you start up your phone. You can even scroll through your pictures in this mode, which means you don't have to delve through several menus to get your mail. A nice improvement.
As an OS that's not built for touch from ground-up, WM 6.5 can use some improvements though. For example, it could be smoother when it comes to navigating between menus. Microsoft says this is an early build, so I'll be fair to them and reserve judgement on the new OS until it's available later this year.
Bottomline for the Touch Diamond 2: I can see many HTC users looking forward to it, but I hope HTC changes the back cover to something with a nice, matte finish, or something like the Nokia E-series' heavy-metal, slip-resistant back cover.