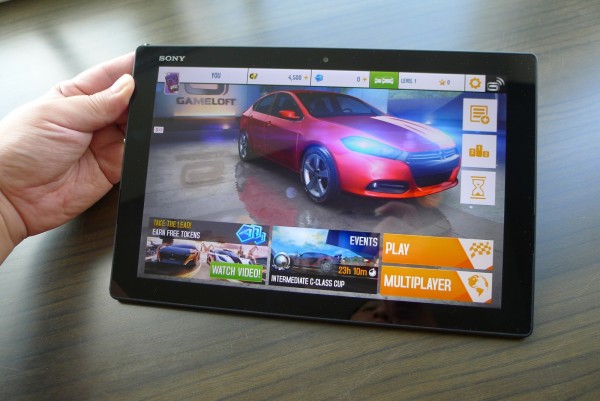 At a time when tablet sales are falling, you might question why you'd get excited about the new Xperia Z4 from Sony.
Well, the 10-inch tablet from the Japanese electronics maker is the best of the lot. Pick it up and you'll instantly feel this isn't another Android tablet.

The 6.1mm slim profile and 393-gram weight are touted as the best in the world, and I can tell you they make a world of difference.
That's especially when your old tablet – mine is a Nexus 10 from 2012 – weighs more than 600 grams and has recently been left behind for a thin and light laptop and a large-screen phablet.
Getting my hands on the Xperia Z4 has made me rethink about tablets. Essentially, it brings all the cool hardware without any of the bulk. And that's a great reason to be using it at the sofa at home or on the plane.
Though the bezels are not as slim as Samsung's Galaxy Tab S, the Xperia Z4 does well enough to keep things compact. Its 2K or Quad HD resolution (2,560 x 1,600) is sharp as you'd expect and really show off photos well.
The way Sony handles colour could not be more different, though. Unlike its Korean rival, it has less of the vibrancy and what some may call an over-saturated palette.
Some images may seem to pop out less to me, but they are certainly not flat or lifeless. Some users may find this more "natural". Even as a fan of Samsung's Super AMOLED displays, I'm happy with the Xperia Z4 when it comes to playing videos or just scrolling through images.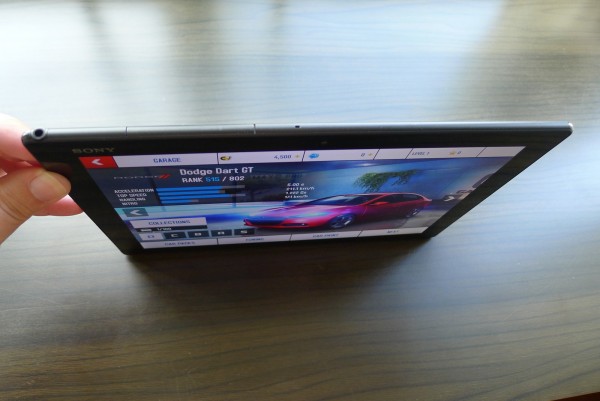 To power things up, there's also enough muscle in the new engine underneath the svelte cover. Qualcomm's Snapdragon 810 chip runs at a handy 2GHz, assisted by 3GB of RAM to keep things running smooth. There's no hint of any slowdown when switching apps.
Neither is there for demanding games. When I fired up Asphalt 8: Airborne, the graphics were top notch and I didn't detect any lag while slamming my way into obstacles (I'm a lousy tablet gamer).
For audio geeks, Sony also touts its support for high-resolution audio. This means you can fire up your WAV files, for example, without worrying about compatibility.
There's no substituting a good pair of earphones, of course. Sound is piped through a small slit on the Xperia Z4 – a trade-off for the svelte design – so don't expect a full, engaging experience.
Still, the tablet will prove useful for multimedia on the go. For those huge lossless music files or downloaded movies, there's a useful memory card slot. Pop in a 128GB microSD card and you're good to go for a long trip.
Speaking of which, the 6,000mAh battery pack does a great job of keeping the Xperia Z4 going. With the 4G-equipped review unit I had, I could use it sporadically for days.
On standby, it kept going for days without losing charge, so I could pick it up whenever I had some time to browse e-magazines or just surf the Web at the couch. It's just a big improvement over my trusty but ageing Nexus 10.
It helps too, of course, that the Xperia Z4's Android 5.0 interface is smooth. I can't say enough of how important a great interface is and Sony has done a great job keeping things neat, simple and logical.
Fonts are thin and sleek, while icons are grouped in a way to maximise information density. The fact that it keeps to the basic Android look and feel will please folks who like the simplicity of the stock Android operating system.
That's one big reason I would consider the Xperia Z4 over Samsung's Galaxy Tab S, which was my favourite Android tablet before Sony came along. Sony scores high for its zippy interface.
Yet another winning feature is the Xperia Z4's ruggedness. Waterproof and dust tight (rated at IP65 and IP68), it ensures that you don't have to worry when bringing it along for a camping trip or more likely, to a resort pool.
Unlike previous Xperias, the new version has a USB port that does not require you to fiddle with a plastic cap. So, it offers toughness without the inconvenience.
If you are looking for a tablet now, I'd readily recommend the Xperia Z4. In particular, the 4G version (S$998) seems a better deal than the Wi-Fi-only one (S$888), especially if you have a spare data SIM card lying around.
I had waited a long time for a replacement for my much-loved Nexus 10. Now the Xperia Z4 looks like a genuinely big step up.