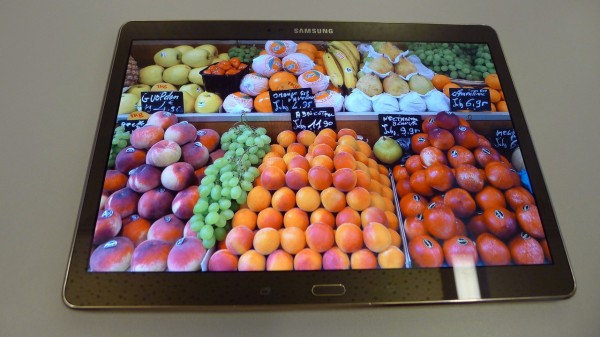 Finally, a Super AMOLED screen in a large Samsung tablet. Fans of the bright, vibrant display will jump at the Galaxy Tab S, the "flagship" tablet from the Korean electronics manufacturer unveiled a fortnight ago.I certainly was impressed with the new premium tablet, going by a quick hands-on session last week here in Singapore.
Having used the last Samsung tablet to utilise Super AMOLED – the Galaxy Tab 7.7 – back in 2012, I was pleased to see the colours pop out of the new 10.5-inch screen. Some will say they are oversaturated – I personally love the full gamut of colours.
Before I get carried away with the screen, the tablet does have all the other bells and whistles expected of a top-end model.
With an Exynos 5 octa-core chip and 3GB RAM onboard, this is as fast as you'd expect from many an Android tablet today. It shouldn't have any issue running most apps today.
The microSD card slot supports up to 128GB cards, which is a boon to folks who want to play their Full HD movies that take up a lot of space.
Both Wi-Fi and 4G (Long Term Evolution) models will make it to Singapore this month. And besides the 10.5-inch model, there's a smaller 8.4-incher that will turn up in shops here.
With a 7,900mAh battery pack, the tablet still manages to keep very thin and light. The 6.6mm girth is thinner than the iPad Air's 7.5mm, which reviewers raved about when Apple released its tablet last year.
The 467-gram weight also slightly betters its Apple rival's 478 grams. Don't forget too that the Samsung boasts a 10.5-inch screen, compared to the iPad Air's 9.7-incher. And it packs in more detail, with a 2,560 x 1,600 resolution compared to the iPad Air's 2,048 x 1,536.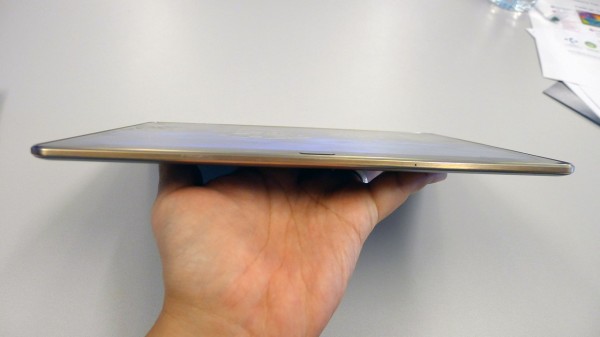 Specs are specs, I agree. Find the Galaxy Tab S and I'm sure it'd catch your eye with its very bright, very vibrant screen. To me, the combination of high-res plus high contrast and vibrance makes for a stunning display. My quick hands-on with the Galaxy Tab S last week reinforces this.
Super AMOLED has its fans and detractors, of course, but the good thing about the Galaxy Tab S is that you can switch between the different image modes.
If you don't like things too bright, you can always select an Adobe RGB-friendly mode that reproduces what some say are more accurate colours. That's also great if you are using the tablet to preview images that you are working on.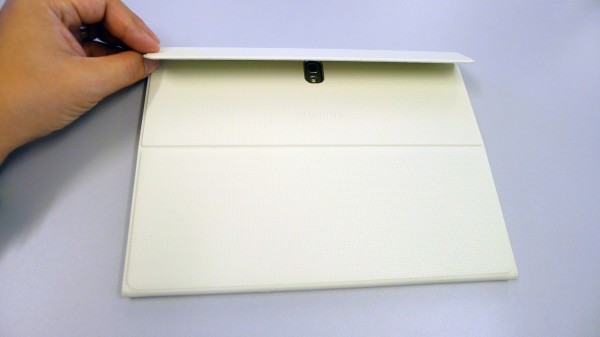 Though the screen is the main selling point, the Galaxy Tab S impresses too as an overall premium package. It helps that it comes with a number of useful accessories, such as a new add-on cover that doubles as a stand.
Samsung's new Book Cover lets you view in three angles, though you have to get a little used to how it's folded into place. Good news is, it's very slim, letting you add some much needed protection and convenience to the Galaxy Tab S without bulking things up much.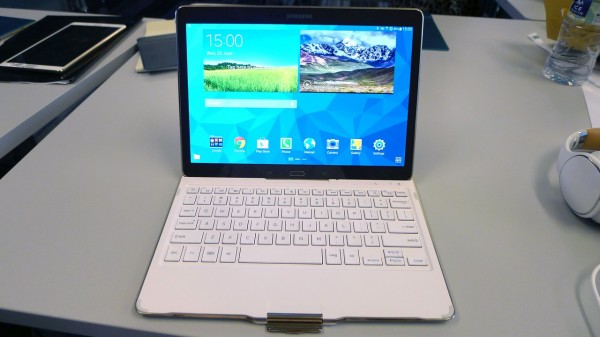 The companion Bluetooth keyboard cover is another nice addition. It unfolds nicely and props up the tablet, while again not adding much heft to the tablet. For folks who often fire away e-mails on the go with their tablets, this is one must-have accessory.
If there is one thing that Samsung should fix, I think it's the slight lag seen in the animation when switching to some apps, such as the Korean firm's own Story Album app.
I'm not sure if this is down to the clunkiness of the software or if it has to do with how fast or zippy you set the programs to fire up, but it's something that geeks might take note of. Samsung should fix it.
This is not to say the apps themselves run slowly. Far from it. Despite the rather clunky Samsung Android interface, which isn't to everyone's liking, I've tried some basic apps such as Google's apps and Samsung's included Han Office productivity tools and they seem to work well.
One thing I didn't get to test out was the battery life. I'm just wondering how long the tablet will last, with all that eye candy maxed out on the display.
Another unknown is the price, at least for Singapore. In the United States, the tablet costs from US$499 (S$621) for the 10.5-incher, which will attract folks who are willing to pay a premium for a feature-packed, well-designed tablet.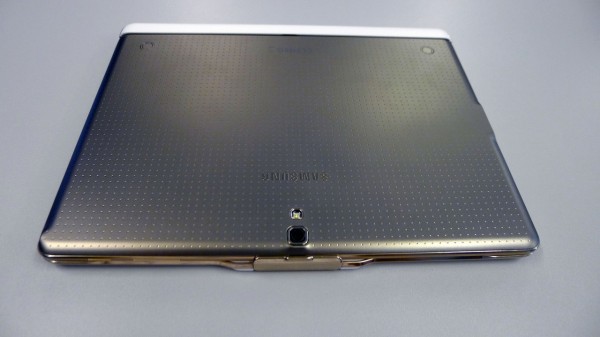 Not everyone, of course, will find the Galaxy Tab S a good deal. A lot of low-cost tablets, from China's Xiaomi, for example, are vying to grab market share with screens that are not as sharp, but are still attractive to many users not seeking the best of the best.
Competition also comes from Samsung's own TabPro and NotePro tablets aimed at office users. They are expensive but don't come with a Super AMOLED screen like the Galaxy Tab S. And don't forget that, further up the price scale, full-fledged PCs such as Microsoft's Surface Pro 3 now start from about $1,100.
Lots of competition is good. It's about time too that Samsung is back with a top-end tablet. If that's what you're looking for, then the Galaxy Tab S should be high on your priorities.
I'm using a Nexus 10, an excellent tablet also made by Samsung, and I'm considering an upgrade too.