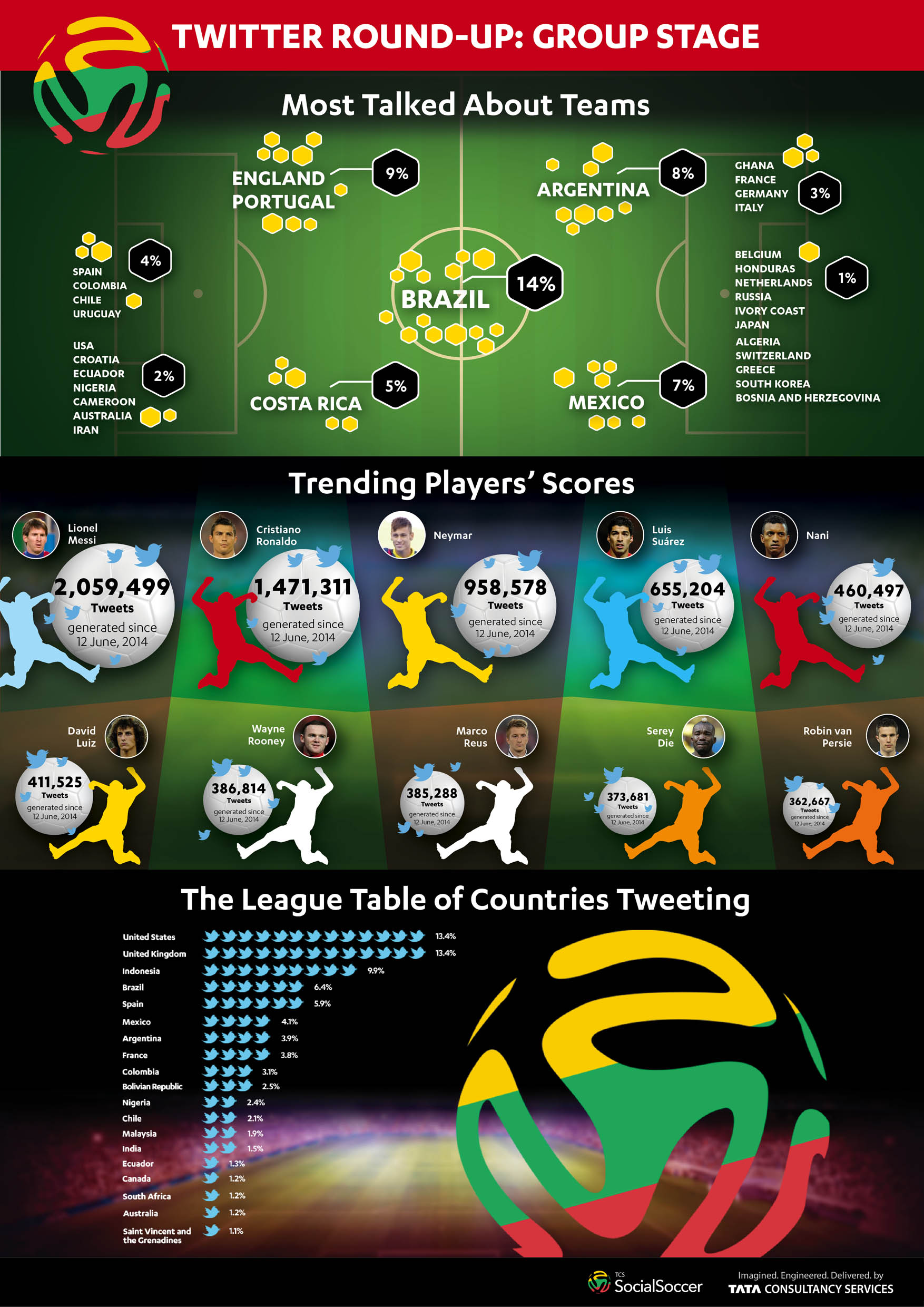 Indonesian users posted nearly 10 per cent of all World Cup-related tweets globally, behind the United States and United Kingdom but ahead of football giants Brazil, Spain, Argentina and France.
This and other interesting nuggets of data collected on Twitter in the past two weeks were released this Monday by Tata Consultancy Services, which has been tracking the sentiment of football fans on the social media network.
Host nation Brazil was the most talked-about team in the group stage, with Neymar and company's brilliant performances attracting 14 per cent of all tweets on the World Cup.
England and Portugal each represented nine per cent of all tweets sent out as the second most talked-about teams on Twitter, despite – or probably because of – their dismal showing.
A string of wins against established rivals propelled black horse Costa Rica into prominence, representing five per cent of all tweets on Confederation of North, Central American and Caribbean Association Football (CONCACAF) nations.
When it comes to individual players, Argentina captain Lionel Messi was the most talked-about so far with over 2.05 million tweets made about him. His Portuguese rival Cristiano Ronaldo was second with about 1.47 million tweets.
Neymar, Messi's Barcelona team-mate, received 958,578 tweets while compulsive nipper Luis Suárez of Liverpool and Uruguayan fame was fourth with 655,204 tweets.
Englishman Wayne Rooney's greatest achievement after his lacklustre showing this tournament might be finishing seventh in Twitter mentions with 386,814 tweets, above his Manchester United team-mate Robin van Persie in tenth place with 362,667.
Do you agree with the figures? Share with us your opinions and more in the comments section below!