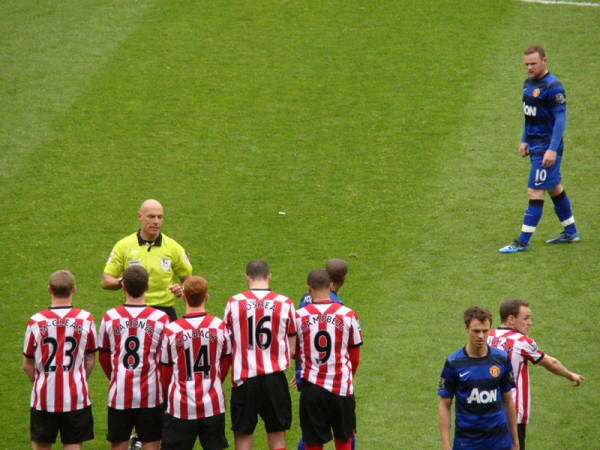 (credit: vagueonthehow, Creative Commons)

So, after all that is said and done, this is the final score for football fans looking to watch Barclays Premier League matches from next month – pay SingTel S$59.90 a month.
The "red" operator wasted little time revealing the prices yesterday evening, hours after it was told once again to show its live telecasts on both its own mio TV channels as well as rival StarHub's cable TV channels.
Minister for Communications and Information, Yaacob Ibrahim, had confirmed that SingTel would be sharing the content, in rejecting its appeal.
What this means is that StarHub subscribers can now watch the Barclays Premier League matches on their cable TV boxes, by simply signing up with SingTel and paying it directly. No need for two boxes any more.
That piece of good news, coming at the end of a months-long saga on TV rights in Singapore, will be tempered by the higher price that football fans now have to pay.
This has gone up from S$34.90 a month for the past three seasons to S$59.90 for the next three – a 70 per cent increase. That's not what football fans want to hear.
SingTel has also been allowed a small victory. It can still separately sell a bundle of 80 channels, including the live football matches, for just S$64.90, to its existing customers.
The Media Development Authority (MDA) had okayed this exemption to the so-called "cross carriage" rules, because it believed viewers will benefit from such existing bundles.
However, SingTel cannot tweak such packages without the regulator's consent, the MDA went to lengths to explain in a tough-sounding note yesterday.
In the larger scheme of things, a clear precedent has been set. The government has learnt lessons from its "hands off" approach in previous years and is now prepared to bring out the rod should a pay-TV operator test its resolve.
SingTel bosses who had claimed all along that its deal with the British rights owners was "non exclusive", despite all the tell-tale signs of an exclusive deal, might now think twice about going down the same path again in future.
Should football fans be disappointed that the cross carriage rules did not deliver cheaper prices?
In the long term, no. The reality is the cost of football TV rights has skyrocketed around the world in the past few seasons. The same wrangle for rights has gone on in several places, including in Britain itself.
Viewers in other countries sometimes pay less if pay-TV operators manage to rake in enough advertisements to make a profit. Singapore has a small market and may not benefit from the same model.
Ultimately, the cost of watching your favourite teams is tied to market dynamics often beyond the complete control of the players and regulator in Singapore. With or without the country's cross carriage rules, prices are likely to have gone up.
Higher or lower than the S$59.90 now? That's hard to say. Like with any business, operators such as SingTel will have to make sure it makes money from this enterprise, by pricing it high enough to cover costs while ensuring enough customers buy in.
More importantly, the business model now has to change. And this is what couch potatoes in Singapore – not just football fans – should be happy about in the years to come.
The old strategy for both StarHub and SingTel was to go out and get hold of popular TV content and sign an exclusive deal to prevent a rival from showing it.
Then, after locking in users, each operator could try to crawl back some of the cost of expensive content bids by up-selling services such as phone and broadband, possibly at a high cost.
The bad thing about such competition is that Singapore is the ultimate loser. Users are locked in to one operator, while each operator is forced to bid exorbitant amounts to grab the exclusive content that guarantees such lock-ins.
Only the rights owners, usually foreign content companies, laugh all the way to the bank. Consumers lack choice and operators are bound to high costs, which they ultimately have to pass on to consumers.
That is changing now, after this long-drawn saga on football TV rights. Since they cannot lock in users now, Singapore's operators will find less incentive to bid huge amounts for exclusive content. That part of the cost, at least, is likely to go down.
Can an operator still charge a sky-high price since it has the rights for Singapore? Sure, but it has to make its service attractive to users too. Price it too high and users are driven to watch from alternative sources online.
That's the other thing that will impact prices of TV content. As online streaming becomes common on phones, tablets and PCs, pay-TV operators will have to rethink how best to bid for content and sell their services in the years ahead.
It may still cost more to watch football in future – that's down to demand, which is evident everywhere Manchester United, Arsenal and Liverpool have travelled and been mobbed in their global tours in recent weeks.
But at least for Singapore, users should no longer be bound to the wrong type of competition that had characterised the industry here for many years.