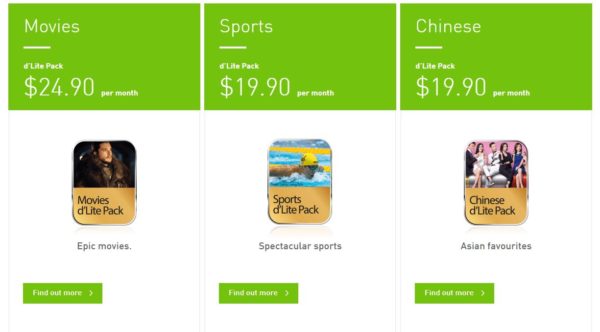 StarHub pay-TV subscribers can now buy a package of blockbuster movie hits, live sports shows or other niche programmes without paying for a basic tier of shows that they don't watch.
A Chinese, Malay, Tamil and sports pack will each cost S$19.90 a month, while one featuring Hollywood movies and TV shows goes for S$24.90 a month.
Users don't have to sign up for dozens of basic tier channels that start at S$26.75 a month if they know what they want on an a la carte menu. And they don't have to pay for set-top box rental, which usually costs about S$6 a month.
The new services are aimed at catering to customers with different viewing appetites, said Justin Ang, StarHub's head of product, in a statement today. With the new offerings, they can zero in on their favourite content, he added.
This means subscribers can pay S$24.90 a month to catch Game of Thrones and other shows on HBO, along with eight other channels on the movies package.
The S$19.90 sports package, meanwhile, offers live telecasts of US Open tennis action, La Liga Spanish football league and Tour de France cycling competition, among other shows.
StarHub's move is a sign of the changing times. Unbundling premium and popular shows with less expensive and "common" basic tier programmes was once taboo in an industry where cable operators mixed and matched their lineups to maximise profits.
Today, however, StarHub is facing a declining subscriber base. Pay-TV revenue for the first three months this year was 7 per cent lower than a year ago, due to 41,000 customers cutting the cord. It still has 487,000 households on cable TV today.
Traditional pay-TV players such as StarHub have had to fight on unfamiliar turf in the past couple of years, with stiff competition from streaming services such as Netflix from the United States and the the Hong Kong-based Viu, which offers free Korean dramas to the region.
In 2015, StarHub launched a streaming service of its own, bringing its lineup of programmes to phones, tablets and PCs without the need for a cable sign-up.
Today marks another milestone, as it unpacks its cable TV offerings as well. In a tough market, it has to come up with more attractive offerings to meet changing viewer habits.
Indeed, its latest packs cost less than the average price that each customer paid in the last quarter, which stood at S$51 a month. Losing a customer for nothing, however, is worse than having him pay less, even if this is at a much reduced S$19.90 or S$24.90 a month.