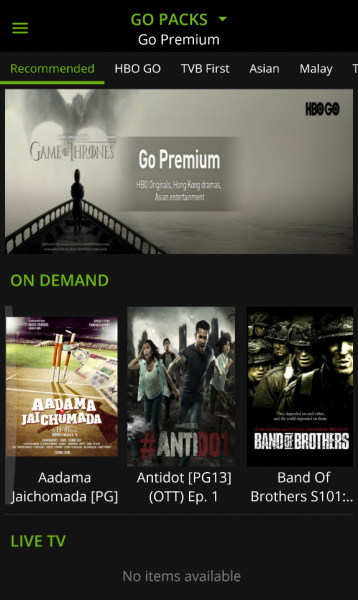 In a bid to attract young TV viewers, StarHub today unveiled an online video streaming service that brings Champions League football, HBO movies and Cantonese drama series to them on an a la carte menu without the usual cable TV fees.
Prices start from S$9.90 a month for a basic StarHub Go subscription, which gives viewers a mix of popular channels such as Discovery Science, Animal Planet and KBS World.
A second bundle goes for S$19.90 and includes HBO, Cinema Originals and TVB First. Prices go up to S$24.90 for a sports bundle that includes the latest Champions League matches.
There is no need to rent a cable TV box, as users will be able to watch the programmes on a smartphone, tablet or PC. They can also use these devices to screen the videos on a living room TV.
The online streaming service is StarHub's latest bid to win back "cord cutters" who have turned to video streaming services such as Netflix or Hulu to watch the latest Hollywood movies or drama serials.
It is also the first time that StarHub has opened up its stable of channels in an a la carte fashion, without forcing users to subscribe to at least a basic tier of channels, as pay-TV operators traditionally do.
The move is tacit acknowledgement that audience habits have changed. In recent years, TV is being watched on personal devices such as smartphones, instead of the communal activity in the living room of the past (read our commentary).
The new StarHub Go lineup will attract users who want to watch specific programmes, say, sports or movies, without paying a basic fee on stuff they do not want. The service is open to all users.
Previously, StarHub only opened its online streaming service to its existing pay-TV customers. With the new service, these customers can still view the channels they have paid for online.
Rival operator Singtel, meanwhile, has kept its online streaming service for regional markets, such as Thailand and Indonesia, and not for Singapore for now. It faces upstart rivals such as iflix from Malaysia.
The question, of course, is whether these relatively new online operators can keep up the fight when global players such as Netflix come calling.
The American streaming service is readying its first foray into Asia with a launch in Japan on September 2. Earlier, in March, it had kicked off its service in Australia that cost from AU$8.99 a month.
In Singapore, it had responded to a government call for feedback on the Net neutrality issue in May, showing that it had been watching developments here as part of its global expansion plans.