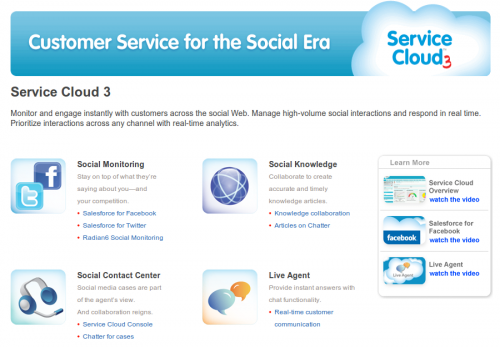 Early this month, Saleforce.com unveiled Service Cloud 3, a hosted social contact centre software that lets companies engage with customers on Twitter, Facebook and other social networks.
Through built-in social analytics, call centre agents can track, prioritise and respond to conversations regarding their products via phone, e-mail, live chat or social media. Drawing on these real-time insights, Salesforce says, agents will be able to determine the best channel to respond to customers and tailor support strategies to effectively address changing sentiments on the social Web.
With more conversations concerning products and services happening on social media services such as Facebook and Twitter, the launch of Service Cloud 3 is timely and significant. As Salesforce noted:
The proliferation of social technologies has forced a massive shift in the customer service industry and the sheer volume of social media conversations places incredible demands on today's contact centers. An unanswered, public complaint can cause a company to lose decades of hard-earned brand equity overnight. A seemingly innocuous afternoon tweet can become an Internet sensation by the next morning if left unaddressed. Providing an optimized agent experience, Service Cloud 3 will let companies quickly wade through millions of public comments and cut through the social media noise.
Besides converting Facebook comments, wall posts and Twitter posts automatically into customer cases through the Radian6 workflow rule engine, Service Cloud 3 includes a customer portal dubbed Salesforce Answers that lets customers ask questions, post answers and vote on answers they consider most helpful. Call centre agents can also collaborate with one another on customer cases through Salesforce Chatter, the enterprise social networking tool has been available since last year.
Industry observers have called for companies to integrate social media into their CRM strategies. However, this will require a mindset shift, from managing customers to managing relationships. Most call centres agents are trained to manage complaints and product issues, rather than build relationships with customers. More importantly, call centre agents have to be trained to handle conversations on the social Web, which can be daunting for those unfamiliar with social networking.
Service Cloud 3 is generally available now and will give Salesforce an edge over its on-demand CRM rivals, but enterprises will face a bigger challenge in getting call centre agents acquainted with managing customer relationships on the social Web.
Right now, most of this work is done by "social media experts" or corporate communications folks in a company. Call centre agents, who are likely to be temporary or outsourced workers, may not have the incentive and right skills to engage the customer through tweets or conversations on Facebook.