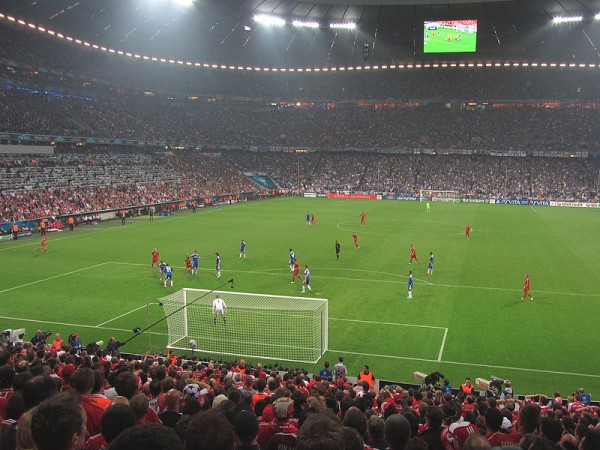 (credit: Markus Unger, Creative Commons)
Up in the middle of the night to watch a Champions League match, some SingTel subscribers must have been rubbing their eyes in disbelief when they found themselves cut off from the live broadcasts this season.
They will have to pay S$10 more a month, the pay-TV operator later clarified, because the cost of sports programming has risen and it could no longer bundle the Champions League matches with the Barclays Premier League shows for free.
Considering how football broadcast rights have cost more everywhere, that could hardly be surprising.
What's worrying, though, is that SingTel may be starting to feel the pinch of paying millions of dollars in its previous costly bid three years ago – and transfering that cost to viewers. 

When it wrested the rights from rival StarHub in 2009, it had kept prices the same as previous seasons despite paying a reported S$400 million for the broadcasts. In a bid to win over subscribers, it also offered pay-per-view broadcasts on the phone and PC, providing more options to football fans.
That was a good thing. Today, 391,000 mio TV subscribers later, it may be feeling the pinch.
Back then, massive pay-TV costs could be overlooked since users were signing up to broadband or mobile phone services. Like how StarHub locked in users with its "triple play" of TV, phone and broadband services before, SingTel could use its exclusive football programmes to upsell its other more profitable services and cover its losses in pay-TV.
In the past couple of years, however, those businesses have come under pressure as well.
While it has grabbed market share, SingTel has had to spend to upgrade its mobile network to keep pace with an explosion of mobile Internet usage.
Instead of SMSes, people are using WhatsApp to avoid paying telecom operators for using more of their network. Each SingTel postpaid mobile customer, on average, has paid 6 per cent less from a year ago.
Fibre broadband too has been good to SingTel, since it now sells much faster options to users, but these face unprecedented competition from the likes of M1, which has been slashing prices.
In other words, the services which used to "subsidise" SingTel's costly football programming could no longer be relied on to do the same as they come under fresh competition.
That means someone has to foot the bill.
Would SingTel be happy with the number of new pay-TV subscribers it has got so far and consider the costs as part of customer acquisition? Would it be happy that it had set in motion a grab for content that now includes channels like National Geographic on its mio TV lineup?
Or would it consider that it now has the clout of a monopoly player to impose whatever prices it feels that football fans will pay? While it has not revealed prices yet for the next three seasons, football fans rightly worry that they will pay more, if SingTel somehow prevents rival StarHub from tabling a bid.
The way it has gone about its deal with the Football Association Premier League (FAPL) in England certainly points to an emboldened player no longer naive to the ways of the pay-TV industry, like when it entered the fray in 2007.
How it can keep out StarHub from the negotiating table, even while operators around the world are bidding for the rights, is quite a mystery. Strangely, the FAPL has said it is in an "exclusive negotiating period" with SingTel, even when the deal is non-exclusive.
This is like closing your cake shop for one customer, while telling others to come back when he's done. Oh, and there's no guarantee you'll sell to anyone else afterwards.
In closing its latest deal last month, SingTel also seemed to have pulled the rug from under its rival's feet. StarHub, it is understood, had believed SingTel would probably work out a deal similar to what had been agreed on with the World Cup and Euro competitions. StarHub, the veteran, has been surprised by the upstart here.
So, here we are, possibly in a situation where SingTel could remain an exclusive Barclays Premier League broadcaster, while not having to play by the rules that the government regulator had set out to share content on a rival broadcaster's channels.
To be fair, there is time yet for StarHub to grab hold of the rights – if the FAPL doesn't impose an artificially high price just before the next season kicks off. There is hope too, that SingTel might have paid less this time, reportedly at S$245 million, to secure the rights, so prices may not be raised.
Yet, before SingTel starts feeling smug about the entire episode, it should also consider how fans would feel about all this wheeling and dealing. As long as prices don't rise, they will be happy, sure. If StarHub gets the rights too, then great, viewers don't need two set-top boxes at home to view football and many other programmes.
But if the result is back to square one, where SingTel raises prices as it likes, and keeps out competition with some "non-exclusive" deals, then football fans won't take things too nicely.
Some will stop paying and turn to pirate streaming sites, which have mushroomed in recent years. Many may simply give up on watching what was once a staple on weekends.
Just like football fans in England who have been locked out by the prohibitive season ticket prices at stadiums they once visited weekly, unhappy fans here might just decide to stay away.
As pay-TV content owners like to remind people ever so often, pay-TV is not rice or water; it's a luxury that you can't have if you can't pay. Maybe it's time football fans took them at their word and just stopped watching.