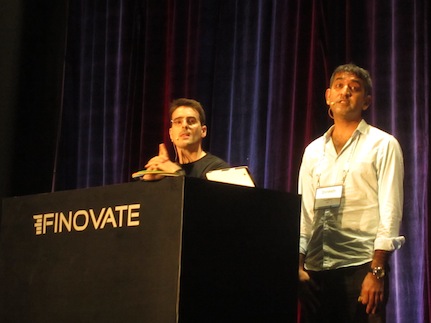 The financial industry may be in doldrums, but that has not stopped technology start-ups from coming up with innovative services targeted at banks and consumers.
At the inaugural FinovateAsia held at the Singapore Expo last Tuesday, 35 companies were given seven minutes each to showcase their wares that run the gamut from personal financial management to trading simulation. Here are three young firms with products that stood out from the pack:
TradeHero
This is a Singapore-developed stock market simulation app that lets you hone your trading skills by following the trading actions of a community of virtual traders.
According to Gary Gan, business development director of MyManisku, the company behind TradeHero, the app draws real-time data from 14 stock exchanges, 45,000 global securities, and 1,300 currency pairs.
Users are credited with a $100,000 starting portfolio and can make trades to create their own virtual portfolio. The app's Leaderboard identifies the most successful traders known as 'Heroes' by their returns, and they are ranked by Exchange, Sector, Monthly or Quarterly returns, as well as overall returns.
For a small monthly fee, users can choose to 'follow' and receive trade feeds from their chosen Heroes via push notifications on their mobile devices. These push notifications detail each Buy and Sell action of the Hero, allowing Followers to receive expert trading tips and personal insight into successful investment strategies. Subscription revenues are shared equally with Heroes, allowing expert traders to monetize their expertise.
"We envision an always-on global TradeHero community with key market insights being formulated and delivered, monetized and executed globally on our mobile platform – we see the entire world transformed into a virtual trading floor," Gan says.
MyManisku, which was founded in 2010, secured a grant from the Media Development Authority and the Singapore Infocomm Technology Federation in September 2011, followed by first-round seed funding from the National Research Foundation and TNF Ventures in August 2012.
TradeHero will be available from the Apple App Store in mid-November.
PerfectSen
Malaysia-based Perfectsen was founded late 2010 by a group of IT professionals with extensive background in software development for financial institutions. The company's personal financial management (PFM) software lets banks incorporate financial management features in their online banking sites to build customer loyalty.
At FinovateAsia, the company unveiled The Hook, which lets banks place personalised ads to cross-sell and up-sell financial products that a customer may be interested in by mining his or her spending patterns, demographic profile and other attributes.
The ads can be easily installed with a single line of code on, say, a customer's personal online banking portal. Think of it as a combination of Google AdSense, Adwords and Analytics for financial institutions.
Retaining a customer is said to be five times cheaper than acquiring a new one, so The Hook should go a long way to help banks reduce churn. The company is funded by the Malaysia's Cradle Fund and counts MayBank as customers.
According to Perfectsen, The Hook is hosted within the bank's IT environment and compatible with most enterprise grade database and OS systems. Deployment takes between eight to 16 weeks, depending on the bank's internal approvals, data availability and IT integration.
CurrencyFair
If you've ever exchanged currency and transferred funds to an overseas bank account, you would be aware of the hefty fees that banks charge for each transaction. CurrencyFair aims to reduce that middleman cost by letting you negotiate your own exchange rates with other users on the same service.
While CurrencyFair slashes the bank's margin for forex transfers – you still pay the bank for incoming and/or outgoing transfers –  you can save up to 90 per cent of the total cost of international fund transfers.
The service is easy to use. You start by depositing the funds you want to exchange into CurrencyFair's bank account, so everyone on the platform is backed up with real cash. When you are ready to trade, enter the amount of currency you want to buy and/or sell through via two trading mechanisms: QuickTrade and MarketPlace.
In a QuickTrade, the platform offers you the best available rates put up by other users for the currency you want. Once the transaction goes through, you can send the currency to a bank account worldwide. If you want a better rate, put up your preferred rates on MarketPlace and wait for someone to match those rates.
The company has raised two million euros in equity funding and boasts of 10,000 registered users who have exchanged an average of over one million euros per day. Based in Dublin, CurrencyFair is regulated by the Central Bank of Ireland under the Europe-wide Payment Services Regulations 2009.