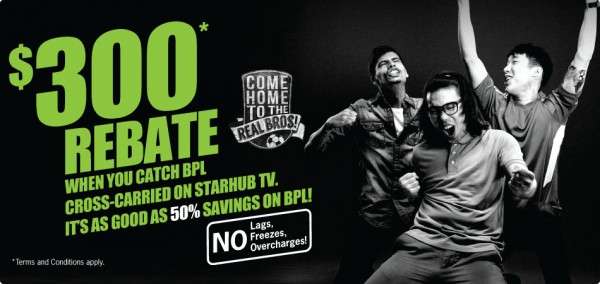 StarHub may spark off a new round of competition in pay-TV and broadband services today, as it promised to cut the bill for football fans who choose to watch the new Barclays Premier League (BPL) season on cable TV.
They will get a total of S$300 off their monthly TV and broadband bill when they sign up for "surf and watch" bundles released today by the "green" operator.
The offer comes a week after SingTel confirmed it would broadcast the live football matches on both its own mio TV channels and StarHub's cable TV channels.
Now StarHub wants to attract viewers by promising discounts as well as the convenience of having just one set-top box at home to view its more extensive lineup of TV programmes.
Football fans still have to pay S$59.90 a month to SingTel, which holds BPL TV rights for Singapore, to watch the matches.
However, they will receive the S$300 rebate over several months, like when they sign up for a two-year contract for one of two new StarHub services – costing about S$62 and S$47 a month – that gives them cable TV channels and broadband access.
The rebate kicks in from the fourth month and is used to offset the monthly bill for both StarHub broadband and pay-TV services.
If a user signs up for the S$47 plan, he will take about six months to "use up" the S$300 credit. If he signs up for more channels or views on-demand videos, the rebate will be used up more quickly.
StarHub says that users cannot be already on a contract now and they have to also sign up with SingTel to watch BPL matches to qualify. The promotion ends on September 30.
Is this good news for viewers, after the disappointment last week when the higher fees were unveiled? Any price competition is welcome, surely.
The S$300 discount spread out over a two-year contract works out to be S$12.50 a month. That will help offset the additional S$25 that viewers have to pay to watch BPL matches this season, after SingTel raised prices from S$34.90 previously to S$59.90 now.
For the first time, StarHub's promotion may trigger a new type of competition. It is now directly cutting prices for add-on services to attract football fans. Previously, the opposite was true. A telecom operator could lock in users through an exclusive pay-TV contract, then sell them more expensive broadband services.
What StarHub is doing is also not new. Each weekend, telcos sign up thousands of cellphone subscribers by offering similar rebates – via cheaper phone purchases. It's a good sign if the pay-TV industry, long mired in exclusive lock-in deals, becomes like the more competitive cellphone market.
Now, the onus is on SingTel, the smaller pay-TV operator, to find a way to keep its customers. More discounts, perhaps?