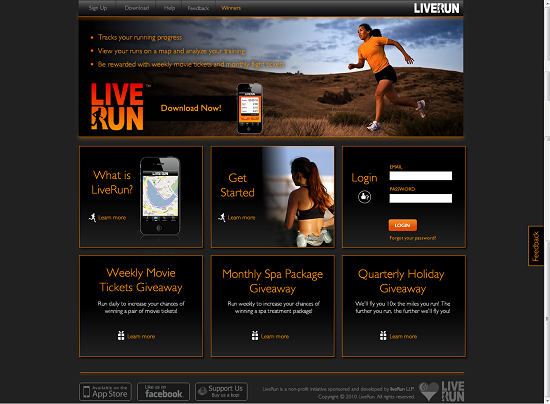 Get rewarded for running in Singapore. No payments, no onerous marketing sign-ups. Just put on your jogging shoes and run.
If you like to run, or better yet, you want to get some motivation to get fit, simply sign up at local non-profit site Liverun.sg and use their iPhone app to track your runs.
I had the chance to interview Liverun.sg founders Jeffrey Chan, 27 and Ignatius Ong, 28 on the craziness of running a pure non-profit(!) site exhorting Singaporeans to run.
"Yeah, many of our friends thought we were mad when we started up the site," said Jeffrey wryly.
The idea for the site came last year in March 2009 when the two idealists and run enthusiasts were dreaming up fun projects of what they could do to improve the world and were passionate about.
Ignatius, who was then working at ST Electronics, always wondered why it was so difficult to get people to run.
"I used to orgnanize runs but people didn't want to go," he said. "No motivation."
So they surveyed their friends to brainstorm what is the best way to reach out to couch potato Singaporeans and hit upon the idea of an iPhone application tied with a rewards scheme.
But that costs money, and even dreams need to take a backseat to pragmatism. So the idea was shelved for a while whilst the two left their jobs to start-up their own web and mobile application design company, also named Live Run.
This year, with their bread-and-butter issues taken care of, Jeffrey and Ignatius decided to go back to their original dream and put together a site to get Singaporeans off their asses and running.
Run, Singapore, Run
Even though it was just soft-launched in October, the site has currently gained 500-odd members. The Liverun.sg founders hope to gain 1,500 members by the end of this year.
Running the project costs around S$10K for a year, said Jeffrey. By leveraging their business contacts, they hope to defray the costs through merchant tie-ups and giveaways.
For example, they are tying up with Velocity — Singapore's first sports-themed mall, which is situated at Novena — in December to launch a run lab of sorts, and they hope to get them to sponsor vouchers.
To me, a non-profit initiative like this would be an ideal tie-up with our Health Promotion Board (HPB), which is a Singapore government agency that looks at healthy living in Singapore. Of course, the duo tried this route, but whilst they are waiting for bureaucrats to say yes, they decided not to wait.
With many popular running mobile applications already available like Run Keeper, how would Liverun.sg compare?
The answer is that they can't be compared fairly because the apps serve different purposes. Run Keeper is a professional tool for tracking your runs and the Liverun.sg is a non-profit site that aims to get Singaporeans running by giving freebies.
"We know of runners who use a variety of apps, so feel free to use both," said Jeffrey.
Whatever it is, the site will be deemed a success in the eyes of the founders if they get Singaporeans out there and running.
Emails like this one from Rdmacalindong, whom Jeffrey shared with me, is the kind of feedback the two love.
The email says: "Goodluck to you guys! Im really looking forward to using LiveRun app.. This is my best motivation ever! =)"