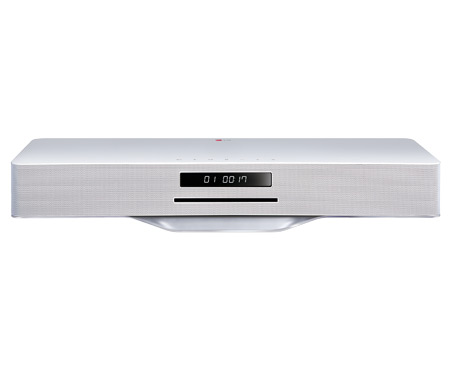 Speaker systems that connect to your smartphone are really a dime a dozen these days, catering to consumers paying top dollar or those who just like a bedside alarm clock on the cheap.
Out in Singapore recently, LG's S$349 CM3330 Micro Audio System surely has its work cut out in a crowded market.
The LG comes in a minimalist box that reminds one of a printer. It also has touch sensitive buttons to add to the futuristic look so it doesn't look that out of place in most living rooms.
The clever design also allows two subwoofers to be hidden at the bottom of the box. This promises better bass performance in a small package.
The CM3330 has all the necessary connectivity options such as Bluetooth for wireless music transmission, optical-in, aux-in and direct USB connection. It also has a CD player and FM radio to round up the audio options.
Another piece of good news: it supports FLAC playback, a format liked by audiophiles as it provides compression of digital music files without the loss of any detail.
During my test, I can say the LG system is powerful enough to reproduce sound well even for a typical HDB apartment's living room. It takes all genres of music and plays the tracks with relative ease. The treble and mid tones shine through.
The bass, however, is rather lacking for heavy dance tracks. This is despite trying to increase selecting the different presets for sound effects, such as Loudness, Bass, Pop or Jazz. That said, the LG micro system does perform well as a casual listening device with songs that are not bass heavy.
LG also provides an app for controlling the device using the LG Bluetooth Remote. The app provides some control such as play, rewind, forward and volume for the LG CM3330.
But you have to do all the FM radio setup on the speaker itself before the radio station list is updated on the app.  An app that can help save the radio station and also have preset sound equalisation settings would be more helpful.