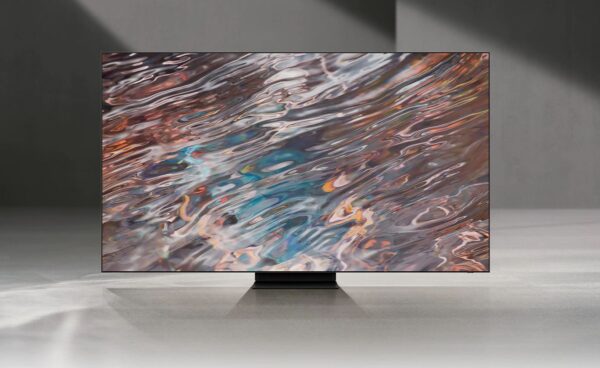 Samsung's new TVs are set for much improved image quality this year, with the top-end Neo QLED 8K TVs out in Singapore now sporting the breakthrough Mini LED technology.
Models such as the Samsung QN900A now pack in many more smaller LEDs that can individually be lit up to have better control and precision in displaying an image.
Mini LEDs, which can be 40 times smaller than the regular LEDs found in its cheaper TVs, are a huge improvement this year because they can be placed all on the surface behind the screen (local dimming), instead of the sides (edge dimming) like with most TVs.
Besides Samsung, LG and TCL are known to be shipping Mini LED TVs this year. The technology is different from Micro LEDs, which are even smaller LEDs that are modular and used now only in ultra-large, costly TVs priced at about S$500,000.
Samsung says its new Mini LED TVs, such as the Neo QLED models, face fewer of the issues often seen in the past like blooming or light leakage. Plus, they have better image quality with improved contrast, for example (here is a good primer).
Though the new Samsung models may not yet trouble the king of TV technologies now – OLED TVs, which are lit organically without a separate light source – they will at least close the gap in terms of image quality.
Samsung's Neo QLED models this year also look good, which matters to many house-proud buyers. They take the cue from last year's QLED TVs, by having an extremely slim bezel that looks fantastic when wall mounted.
Plus, with a breakout box – the new Slim One Connect box – holding all the power, USB and HDMI connections, the TV can be mounted almost flush to the wall.
You'll have to consider how to run the cable linking to your box, of course, especially if you wish for the TV to be seamless looking. Also, don't forget the breakout box is pretty sizeable – it's larger than a small laptop.
If you wish to place the TV on a table, then the breakout box can be rested on the back of the TV at an angle. Yes, pretty neat to hide away the cables and accessories.
The Samsung Neo QLED 8K range, of course, comes with a whole lot of bells and whistles. Particularly useful is the surround sound offering that combines speakers behind the TV that fire up and down with compatible Samsung sound bars and surround speakers to offer an immersive movie experience.
Even as a hi-fi buff who has set up a 5.1 system at home, I was pretty impressed yesterday at a Samsung media event with this combination of TV and discrete speakers.
It's testament to how far today's "integrated" systems have come in terms of creating a realistic "cocoon" of sound that envelops a user.
Of course, all these features won't come cheap. In Singapore, the Neo QLED 8K range from Samsung costs from S$9,199 for a 65-incher to S$30,999 for an 85-incher.
The good news is that the Mini LED technology is also available in less costly 4K versions in Samsung's Neo QLED 4K range. Here, a 50-incher goes for S$3,599, with prices rising to S$14,999 for an 85-inch TV.