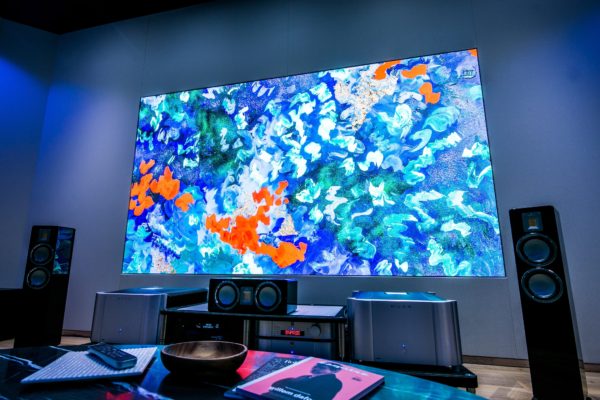 If you fancy a TV that takes up an entire wall with a mind-boggling 192-inch screen, all you have to do is sell your HDB flat for Samsung's latest TV that's simply called The Wall.
That's because the new TV will cost about S$500,000, about the same as a decent-sized public apartment in Singapore. Yes, that's half a million bucks.
Based on a groundbreaking technology called micro LED, the wall TV takes multiple small LED screens to seamlessly deliver a large image. The keyword is seamless.
For the S$500,000 screen, you get 4K resolution. When you fire up the huge display, you can finally see all that fine detail on an actor's face, for example.
Want a larger screen? There's even a 219-incher that offers 6K resolution and a hard-to-imagine 292-inch screen that sports 8K sharpness.
How much for that? If you have to ask, you probably aren't going to be able to afford it, as they say.
At a time when Singapore apartments are getting smaller, who has the space for such a large screen?
Well, according to the Samsung folks at the Singapore launch today, there has already been interest from the presumably ultra-rich in the country.
The Korean company was at pains to show off its micro LED TV, which has been touted as one of the biggest breakthroughs in TV technology in years.
It allows for easy configuration of a screen, as if you're building it from Lego bricks. Literally, you can choose to build a longish 21:9 screen, the more regular 16:9 or even a squarish 4:3 screen.
This brings a lot of possibilities, say, for advertisement displays at public places. Similarly, The Wall will also work well in homes, if you're well-heeled.
The biggest issue with micro LED technology, which Samsung also displayed at CES earlier this year, is cost. It's expensive to manufacture the small screens to be put together in a seamless manner.
At the demo today at a Singapore store, it's clear the technology is in still its nascent stage. In scenes that feature dark colours, the Samsung TV revealed slight indentations, a reminder that there are many screens joined in one.
What's good is that micro LED is self-lit. In other words, the images are created by lights that are lit themselves, without requiring a separate light source to shine on them.
This is somewhat similar to OLED, the current king for high-end TVs. OLED TVs also have millions of "dots" on the screen that light up themselves to deliver the technology's deep blacks and smooth motion.
What about screen quality? Samsung's The Wall screen, at least from my very limited viewing today, seems a little less dark than OLED TVs in terms of the blacks.
However, it does display stunning levels of detail and shows off vibrant colours, as a typical Samsung screen offers. The wall TV's size, there's no denying, will be its biggest selling point.
By being early with micro LED screens such as The Wall TV, Samsung must feel that it has the future firmly in its sights, because manufacturing costs will eventually come down.
By the way, you can also customise the frame that comes with The Wall. You can choose your favourite wood finish that's in fashion now, for example.
You'd expect these frills, of course, after paying half a million bucks. The only problem for Samsung will be finding more customers, though it seems confident there are enough rich ones here.