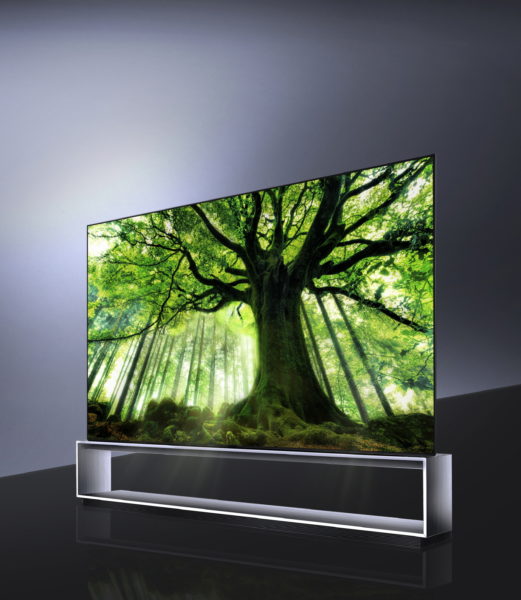 LG's first OLED TVs sporting a sharp 8K resolution will be out in stores in Australia, Germany, France, Britain and the United States this month, bringing more choices to early adopters of the new TV technology.
The LG Signature OLED 8K TV, also called 88Z9, promises to bring together sharper images and the high-quality contrast and colour that OLED screens have been known for.
While 4K TVs today offer 3,840 x 2,160 resolution or more than 8 million pixels on a screen, 8K will deliver 7,680 x 4,320 resolution, which translates to 33 million pixels. That's four times more detail, at least going by pixel count.
There's a question of how much a difference that makes to regular programmes on the telly, of course. Plus, 8K shows are rare today.
However, as the move towards 4K has shown in recent years, the market has moved a lot faster than the original jump by broadcasters onto Full HD.
That's because new cameras, production facilities and networks have allowed players such as Netflix to quickly deliver shows in high resolution. This, in turn, drives new TV sales.
Eventually, LG's new 8K OLED TV, which only comes in an 88-inch version now, will be out in 140 markets, presumably including Singapore.
However, there is no news on the pricing or availability here for now, according to a local media representative.
Besides an OLED model, LG also released a more regular LED one using its NanoCell technology. Also out this month, the 75SM99 should come in cheaper than the OLED model, like with existing 4K TVs.
Both new 8K TVs, claimed LG, offer "real" 8K resolution, as measured by independent establishments, such as the International Committee for Display Metrology (ICDM).
Despite having enough pixels on an screen, many 8K TVs today don't have pixels that can be adequately distinguished from one another to deliver the high resolution, LG said in a media release.
Obviously a dig at its arch-rival and Korean counterpart, Samsung, this is an attempt by LG to tell people its 8K TVs are worth the wait.
Samsung had been selling its 8K TVs in Singapore since April this year, so it's clear LG wants to make potential buyers question whether they are getting what they are paying for.
You wonder what Samsung might say to that. In other words, it looks like a good fight at the premium end of the TV market this year-end.