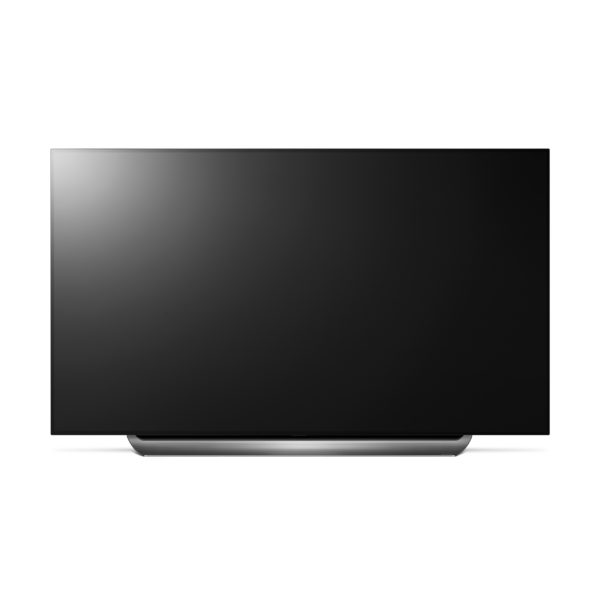 Firing up the LG C9 OLED TV for the first time, you'd be forgiven for asking how different it is from last year's already excellent B8 or C8, which are at the more affordable end of the premium OLED TV range.
This year, the Korean electronics firm has kept to the formula, you can say, by keeping the main screen super thin, which is only as thick as a credit card.
The base, where the electronics and speakers are, is also relatively skinny. So, you can mount the C9 on a wall without it "popping out" too much.
With last year's models going at attractive prices – I was quoted under S$2,000 for a 55-inch B8 as part of a clearance deal last week – why should you spend more on this year's?
Well, LG will tell you the C9 has a better processor. The Alpha 9 Gen 2 promises to reduce noise and use artificial intelligence (AI) to make a scene better.
For example, if there is not enough light, the chip will brighten things up as the frames are displayed. I saw it in the demos in CES earlier this year as well as at the Singapore launch, but I have to say that the effect isn't something that you can detect easily.
Yes, when the improvements are pointed out to you, they may be obvious. But chances are, you'd be more intent on what's going on in a Netflix show than how the images are rendered. Nice to have but would you pay extra for the feature?
What I find more substantial is the sound quality. The 2.2-channel system, with 40-watt stereo output and 20 watts for the subwoofer, delivers a lot more oomph and body than most rivals.
If you're watching an action-packed movie, you'd be surprised at the much fuller sound these new speakers bring. Frankly, I was surprised when I fired up some old action movies and found the explosions and effects coming across with more slam.
The separation of the various sounds in a movie is also something you'd not expect from usually modest TV speakers. But the C9 clearly bests last year's model by producing distinct effects in a movie clearly.
Of course, the reason you are looking at the C9 in the first place probably isn't its sound. The OLED panel here is as you'd expect – top notch.
By now, there is little need to explain how good OLED panels are, since they have been in the market for a few years.
If you're new to this, simply look at the deep blacks that OLED TVs such as the C9 can display. Play a movie like Gravity or Interstellar with lots of empty black space and see how much "blacker" the OLED TVs are. The improved quality applies to contrast as well.
The other thing about OLED TVs is smooth motion. If you see the camera panning quickly, for example, there isn't the motion blur or stilted, overly-in-focus feeling that other TVs usually suffer from.
Forget about the unfortunately named QLED TVs from Samsung as well. They are much improved versions of LED TVs, because they use an additional layer of quantum dots (hence the Q in QLED) to produce more colours and higher brightness.
But however you see it, OLED is the real deal, not QLED. TVs like the C9 offer the best visual quality today simply because OLED is the superior technology in that area.
Don't take my word for it, of course. Bring some movies to the showroom to see for yourself or ask the salesperson to stream some Netflix shows.
Though visual quality is the most important in a TV, one other thing you have to take note of is the user interface. Since you'll be accessing your shows mostly from the TV's software these days, it makes sense to have something you like.
For me, the LG WebOS interface is one of the best, perhaps second only to Sony TVs that use Android, which is more flexible in terms of apps available. But on the LG platform, you still get the most important apps.
There's the mandatory Netflix and Amazon Prime, which can be accessed via buttons right on the remote controller. That can be either for better or worse, of course.
You don't have to teach your elderly parents or grandparents how to fire up their favourite shows this way, but it also means your kids can get to the remote easily (there's no shortcut for parenting, unfortunately).
The slightly updated interface from the C9 also comes with previews of your shows, so if you are just surfing through the programmes on Netflix or YouTube, for example, a short preview shows up when your cursor is over a clip. That's handy for the undecided.
I also have to say something about the "magic wand" remote that LG has kept to all these years. It is one of the easiest to use – my parents own an LG TV at home too and they took no time to learn it – especially when you are swamped with choices today once you switch the screen on.
In terms of image quality, there is no question OLED TVs are the ones to own if you can stretch your budget. In particular, the more affordable models like the C9 offer the best bang for buck if you want the best visual impact.
If you are set on an OLED TV on a budget, then it's a question of whether you wish to save a little more by buying last year's model (like the LG B8) or go with some of the enhancements this year with the C9, which is the cheapest new model available for now (no word on the B9 yet).
The C9 is going for a list price of S$4,099 for a 55-incher, S$5,999 for a 65-incher and S$18,999 for a 77-incher, though you will likely get cheaper deals than that at a store.
If sound quality matters to you and a slightly smarter interface is useful, then this year's model might appeal. Plus, it also depends on whether there are any more of last year's TVs left.