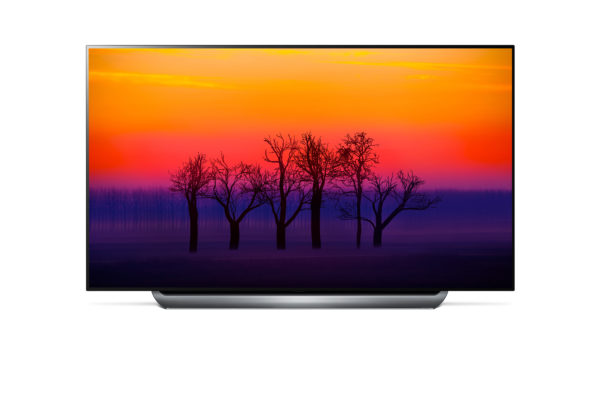 Costing close to S$7,000, the 65-inch version of the LG C8 TV can hardly be called "entry level". This is despite it being the Korean company's most affordable OLED TV.
As many a home theatre buff will tell you, this is the TV to gun for if you want the best display technology out today without forking out more money.
Let's start with explaining OLED or organic light-emitting diode, the technology used in the C8. Unlike more common LCD (or LED) TVs out there, you don't need lights shining from the side or the back to display images on the screen.
This means you can get an extremely thin screen – in the C8, this is only the thickness of a credit card. More importantly, you get unrivalled blacks and smooth, natural motion.
If you ask anyone interested in TVs, they'd tell you OLED's image quality trumps any rival out there, including Samsung's similarly-named QLED (quantum dot LED), which is still an LED TV but uses a fancier technology to display its colours.
Other manufacturers also have quantum dot offerings and they do look better than basic LED TVs, but they are no match for OLED TVs in terms of image quality. Once you see an OLED TV, you won't be happy with another TV.
Why am I spending so much time explaining what OLED TV is here? That's because there's just too much confusion among consumers and it's only recently that many are coming to understand what OLED brings to a TV.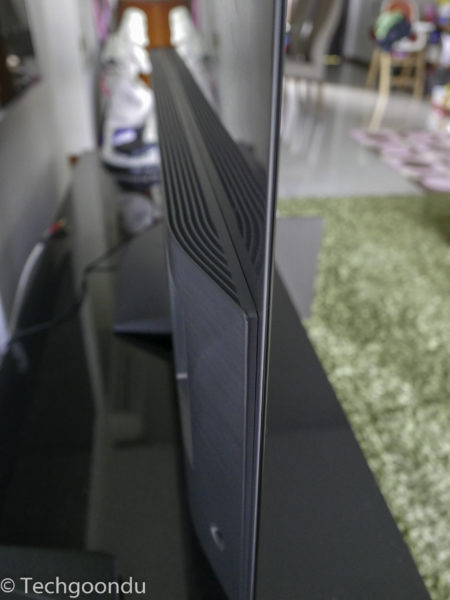 Seeing how LG has made OLED work well in the past couple of years, other manufacturers such as Sony and Panasonic now offer OLED models as well.
In this scenario, the LG C8 is worth considering because it does away with most of the bells and whistles of the more expensive models but retains the same high-quality OLED screen that makes the most impact.
To be fair, there is nothing entry-level about the appearance of the C8. At times, the screen can look like a pretty picture mounted onto a thick base. Okay, not as stunning as the top-end W8, but the C8 is definitely a good looker.
If you expect the great contrast that OLED TVs have been known for, you won't get disappointed. Blacks are as they should be, with light totally absent. No, it's not grey.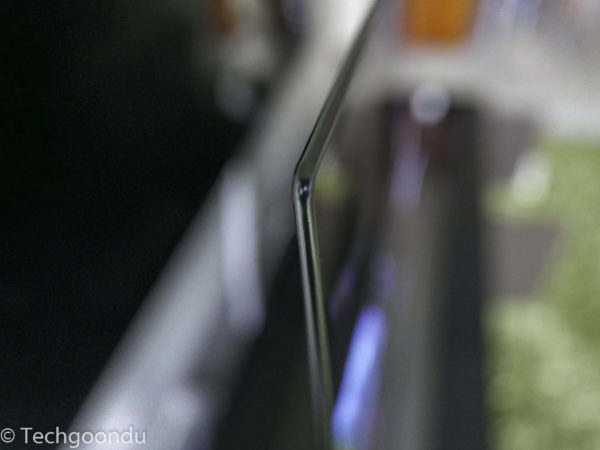 I fired up some of the video material I've used in the past, like when I reviewed LG's G6 Signature a couple of years ago, and sure enough, the quality is unmistakable here on the C8 as well.
The movie Interstellar, for example, showed me the perfect blackness of deep space. The stars stand out even more, like jewels spread out on a black cloth.
The Dark Knight is another show I always enjoy on an OLED TV. Gone are the issues, like buzzing and judder in the opening scene, when the camera moves towards a tall building with lots of tightly packed lines.
In the past, I've had to turn on movie or cinema mode to enjoy the natural motion in the scene. On the C8, it seems LG's promise of removing these issues with its new Alpha 9 processor does come through even with regular modes.
Among other improvements, the chip is able to process images at 120 frames per second, up from 60 frames per second in the past. This results in smoother images even as they move, though without the "soap opera" sharpness that looks unreal.
It's one of several new features that come with this year's OLED lineup, which seems aimed at justifying the prices LG is asking for. Secretly, I suspect, it just doesn't want to drop prices seeing how well OLED TVs are doing.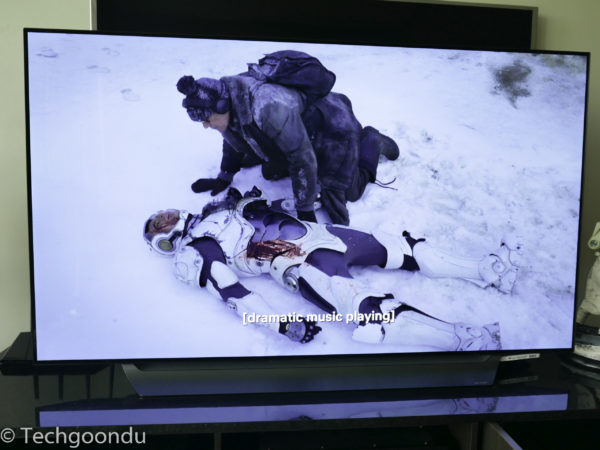 Speaking of upgrades, you can expect the C8 to support just about any important HDR (high dynamic range) format on your video content.
On Netflix, for example, you get Dolby Vision and Ultra HDR by Technicolor, which the C8 will work with. The TV also supports HDR10 Pro and HG Pro. So, you're safe if you want to make sure the TV is compatible with all these formats to display images in high-quality.
For folks new to this, HDR brings enhanced contrast between the brightest and darkest parts of a scene. So, the light peeking out during a sunrise scene could be blinding like if you're staring at it in real life.
The C8 isn't perfect, of course. What I'm not so sure about is the rush to link up to virtual assistants, such as Google Home and Amazon Alexa. If you have a such a gadget at home, you can get them to fire up the TV. Personally, I still trust my remote.
The one that comes with the C8 is the run-of-the-mill version that ships with LG's other regular TVs. There are Netflix and Amazon Prime buttons on it now, which are especially handy to folks who don't know how to go through all the icons on the on-screen menu.
More importantly, the remote is fuss-free and works well like a magic wand. If you want to watch YouTube or free-to-air TV, just wave it around to navigate the easy-to-use WebOS.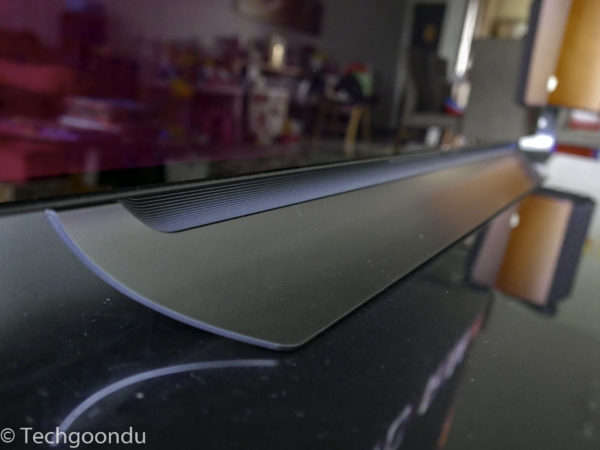 Perhaps the biggest surprise for me is the sound quality. The 2.2-channel 40-watt system is a long way from the usual thin and awful sounds from a TV.
With enough body and low-end slam, the C8's audio is better than many TVs I've heard before. Yes, it supports Dolby Atmos, the surround sound format, but that's not the big deal because you won't fool your ears enough to think that sound is coming from discrete sources around you.
Instead, the big impression comes from the well-controlled bass and clarity that you hear in movies. Dialogue and explosions come across with both detail and impact, quite surprisingly, I must repeat.
So, for what you pay, the C8 ticks a lot of boxes. If you're buying a 65-inch TV tomorrow and your budget exceeds S$6,000, the C8 will be my recommendation as the most affordable OLED TV in the LG lineup today.
What you're paying for mostly is the image quality of an OLED TV. It doesn't come cheap but it is one thing you can clearly see for yourself.
CORRECTION at 12:21pm, 27/07/2018: An earlier version of the story incorrectly stated the power output of the built-in speakers. This has been changed to reflect the correct information. We are sorry for the error.