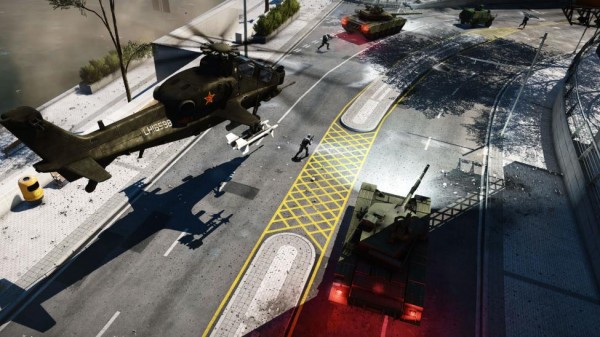 First-person shooter fans have been waiting for the next Battlefield game in the franchise for a long time and the latest one surely doesn't disappoint.
When I tried out Battlefield 4 earlier this week at its Singapore launch, the first thing that struck me was the environment. It allows for wanton destruction and it's incredibly fun.
Unlike many other online shooters, Battlefield 4 has an environment that mirrors real world physics.
You can blast through a sheet of glass to enter a room and make it a sniper's nest or weave into various passageways in buildings to cut off an enemy retreat.
As with previous Battlefield games, you play a character class and get to drive various type of vehicles in a concerted assault on enemy positions in four massive multiplayer maps with updated military hardware and equipment.
You'll find the familiar M1 Abrams tank, the Russian T-90 main battle tank, and Bradley Fighting Vehicle on the ground. Flight jockeys will delight in raining death from above in an FA-18 Hornet, SU-35 flanker and Apache Attack Helicopter.
More importantly, compared to the previous versions, Battlefield 4 is even more massive. Navigating through the maps now takes a much longer time to do so on foot.
I found myself waiting for someone to drive by to pick me up and go to the front lines and get into the thick of things quickly. This mirrors what real military strategy is about when it comes to logistics – you have to get there fast and support the assault.
The single player campaign was a treat too during my first few hours with the game on the Playstation 3. The gameplay was intense from start to finish. In one of the chapters, Singapore was featured with the iconic Marina Bay Sands in the background.
The mission was to fight towards an air base called 'Changi Airport' and you would pass by a semblance of the Singapore City skyline in the distance to reach another smaller bridge that reminds you of Merdeka Bridge.
The experience was no doubt fun with a bit of surrealism. What was really missed was our beloved Merlion spewing water.
If you are into fast and intense action, Battlefield 4 will get you into that adrenalin rush.