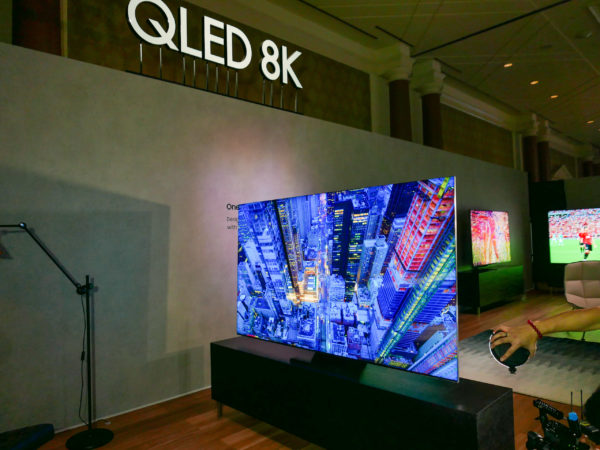 Yes, Samsung also launched a TV called Sero, which rotates vertically to show off your portrait-mode videos from your phone, but the big deal is actually in the less mould-breaking stuff that was unveiled at its CES 2020 preview today.
To a packed room of reporters in Las Vegas, the South Korean electronics firm showed off a virtually bezel-less 8K TV, which looks like it is floating in thin air when hung on the wall.
For the new Q950TS, which leads the company's QLED 2020 range, the thickness all round is only 15mm and the edges at the top and sides are as good as invisible.
Essentially, the TV maker has even taken out the black band usually at the edge of a screen. The result is a stunning display with a 99 per cent screen-to-body ratio, and it looks good on just about any wall.
That may just make someone buy the Q950 TV instead of the much-hyped 8K resolution, which is coming into focus more this year but still lacks original, native content captured with that sharpness.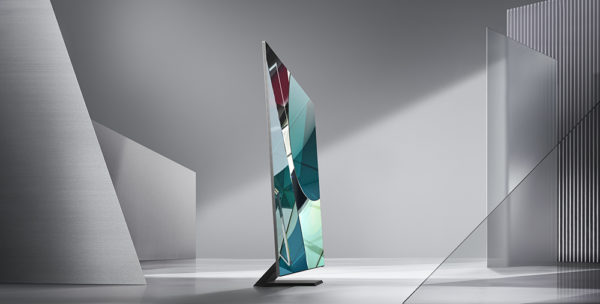 Indeed, features that make a difference to the everyday TV viewing experience are more likely to make users seek out a new Samsung QLED (Quantum-dot light-emitting diode) TV in 2020.
Sure, Samsung also launched the Sero with a rotating screen, supposedly to cater to mobile users who like to see their videos on the big screen. But the real differentiator for Samsung this year is in the less dramatic TVs.
For example, the new flagship TV, the Q950TS which arrives in Singapore in the next few months, comes with souped-up audio features.
An object-tracking feature uses the onboard artificial intelligence (AI) chip to look out for a moving object, say, a car or arrow, and deliver the sound as if it is coming from different directions.
At demos here, this has the effect of a much improved virtual surround sound capability. Of course, it helps that Samsung has mounted twin or even quad speakers at the back of its high-end TVs this year to make the audio effect more realistic.
Samsung has also made these speakers sync with its Q series sound bars. So, if you want to use both the sound bar and the speakers, you can. The sound bar will work in concert with the speakers onboard the TV.
More discrete speakers always help with realism. Certainly, demos here bear this out, at least with the test content. Immediately, you get more sources of audio, like adding surround speakers to a stereo setup.
Samsung is also introducing a feature that automatically ramps up the voice volume in a movie, for example, if it detects background noise from a blender or a vacuum machine. Again, practicality.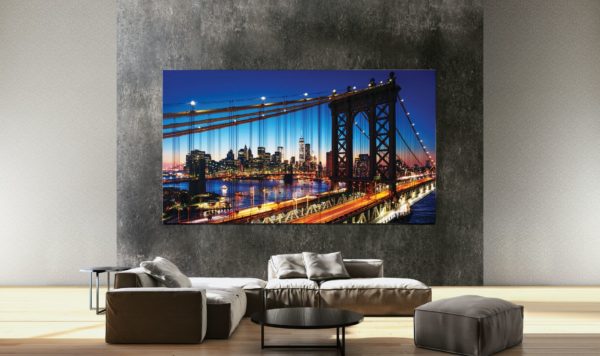 That makes sense at a time when 8K is not yet ready for the mainstream consumer. During this crucial transition, Samsung is also trying to ramp up its microLED technology, which lets it essentially create any screen from building blocks of smaller screens.
The problem is that it's expensive – really expensive. In Singapore, a TV called The Wall was launched late last year at prices of up to half a million Singapore dollars. This year, there are new sizes of 88 and 150 inches, but these won't hit the mainstream at least for a few more years.
Meanwhile, OLED (organic light emitting diode) TVs, like those from LG, Sony and Panasonic, are likely to remain the choice for the premium market, at least for users looking for image quality above all else.
Samsung aims to shift their gaze towards its own (similarly named) QLED range with some nifty designs and features this year. It looks like a smart move.