If you fancy a ball-shaped robot that follows you around at home and helps control other smart devices in future, then Samsung has one that looks like a Star Wars BB-8 droid just for you.
The South Korea electronics giant showed off Ballie, one of its fanciest gadgets by far, during a keynote speech on January 6 to kick off this year's CES 2020 tech fest in Las Vegas.
By presenting a faithful helper that rolls rather cutely along on the floor, like a digital pet, Samsung is among a number of vendors keen to open the new decade by showing the positive transformations that technology can bring.
The maker of Galaxy phones and QLED TVs says it has also helped people with visual problems regain their sight partly with its augmented reality phones, as well as assisted people through physiotherapy with its Gems exoskeleten.
The Ballie robot, slightly bigger than a tennis ball, is an assistant that can call on a smart vacuum, say, to clean up a mess after your pet dog has dirtied the floor. Well, at least that's what the demo at Samsung's keynote showed tonight.
#Ballie is part of the next evolution of #IoT – patrolling your home, acting as a #fitness assistant, and acting as a remote control for the smart devices in your home. #CES2020 #SamsungCES2020 pic.twitter.com/u1Phkpy3Eb

— Samsung US Newsroom (@SamsungNewsUS) January 7, 2020
It's a glimpse of a future where technologies such as artificial intelligence (AI), Internet of Things (IoT), augmented reality (AR) and 5G come together to create a personalised, purposeful experience, said Hyun-Suk Kim, Samsung's president and CEO of consumer electronics.
The message has also been shared by other vendors at this weeks' CES 2020 event, which officially opens its doors only on January 7. In the past two days in the Nevada desert, they have tried to fire up an optimism that is no longer universal today.
Earlier in the day, LG sold its AI pitch as something that made life easier to users for everyday tasks. A smart washer will work with a smart dryer to make sure your clothes end up clean and ready to wear. A proactive customer service will alert users if their machines need repair soon.
Also today, Toshiba from Japan said it was going to build a a prototype city of the future on a 175-acre site at the base of Mount Fuji in its home country.
Called the Woven City, it will be powered by hydrogen fuel cells and serve as a home to full-time residents and researchers to test and develop technologies such as autonomy, robotics, personal mobility, smart homes and AI.
The picture presented here is a far cry from news headlines of the past few years, which have included increasingly threatening cyber attacks, privacy breaches by Big Tech firms such as Facebook and Big Brother surveillance in countries such as China.
Let's not forget about the anxiety that people already feel with AI and automation technologies threatening to take away jobs and disrupt their livelihoods.
So, on the biggest stage for personal technology here, it was a good opportunity for companies such as Samsung to set the scene for a more positive view of technology.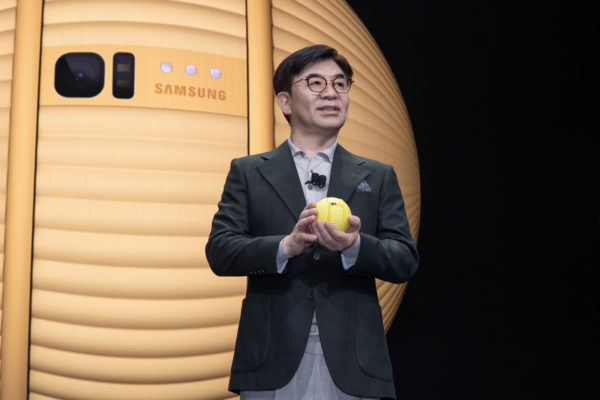 Its consumer business head, Kim, promised not to give away consumer data to third parties unless authorised by users. Smart IoT devices, from washers to fridges, will also have more robust cybersecurity, sporting the Knox software used in its Galaxy phones now, he added.
But there's only so much that a man or his company can promise on stage, even at the grandest of stages in a ballroom filled with the technorati. In the next decade and beyond, it's the users who have to be convinced.
It's no longer business as usual, as the saying goes, at CES 2020. No longer can tech firms build the latest fancy gadgets and expect people to come. Right now, they have to show that they can be trusted.