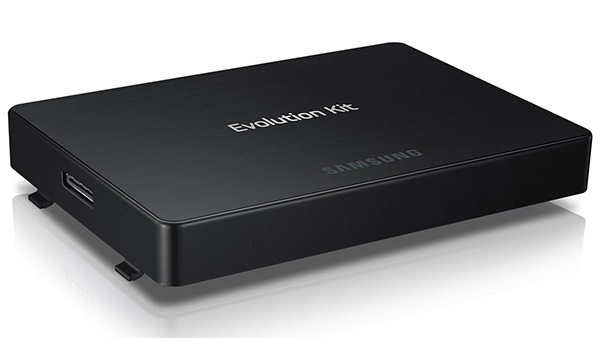 Unlike smartphones and laptops, TVs are expected to last a long, long time before they have to be upgraded. But with smart televisions shipping with quad-core chips and Internet connectivity, the future may demand that we buy a new TV every two years just to keep up.
Thankfully, Samsung is thinking out of the "box".
When the Korean company launched its new range of TVs in Singapore on Wednesday, it also introduced a new gizmo called Evolution Kit — a small rectangular device which looks like an external hard drive and functions as a hardware and software upgrade to your existing Samsung TV.
So even if you bought a new Samsung TV last year, you can still enjoy the latest features for just US$299, as opposed to shelling out thousands of bucks for a new TV with the latest features.
These new features include gesture control, an updated Smart Hub interface that  is claimed to be more intuitive, and Multi-Screen features such as pulling content playing on the TV down on to your smartphone.
Does this mean that, barring major malfunction, you never have to buy new TVs ever again?
Probably not. After all, the industry keeps trying to push things forward, most recently with Ultra-HD TVs such as Samsung's very own 85-inch behemoth. If you're an AV junkie who prefers the latest and greatest tech in your living room, the Evolution Kit is not going to save you from your obsession.
Plus, Samsung itself will want to keep selling TVs, so it won't be too much of a surprise if the company decide to artificially restrict future evolution kits to only certain models.
The Evolution Kit will be available in the second quarter of this year, though it hasn't yet been priced locally.